U.K. Plc Urges Lawmakers to Pass Brexit Deal and End Limbo
(Bloomberg) -- British business allowed itself a moment of cautious hope as Prime Minister Boris Johnson and the European Union reached an agreement to ward off a no-deal Brexit.
Johnson now has to succeed where predecessor Theresa May failed three times and win approval for the deal from the U.K. parliament. With Northern Ireland's Democratic Unionist Party again withholding its support, the optimism is tinged with apprehension.
"We have been here before," the chairman of the Federation of Small Businesses, Mike Cherry, said Thursday.
U.K. businesses see avoiding a no-deal rupture with the country's most important trading bloc as the overriding priority as it could bog down supply chains with customs checks and tariffs and upend arrangements that allow data to move freely across borders.
As companies digested the terms of the latest withdrawal agreement, some trade bodies were quick to urge lawmakers to ratify it on Saturday and put an end to three years of uncertainty that have clouded their prospects and hampered their investment plans. Ratifying the deal would trigger a transition period that preserves much of the current trading architecture, giving time to agree a new relationship.
"It is now up to members of parliament to play their part and finally end the Brexit uncertainty that has been hanging over consumers and retailers," said Andrew Opie, director of food and sustainability at the British Retail Consortium.
In an open letter to business leaders, Johnson said the U.K. can get Brexit done and leave the EU in two weeks' time "without disruption."
"The priority now is to deliver Brexit and provide the certainty businesses need so that the country can come together and move one," Johnson said in the letter.
Corporations doing business in the U.K. remained cautious Thursday night, and are waiting for the Saturday vote.
"We remain concerned by a potential 'no-deal' and we continue to plan for that scenario as that is the only way any responsible business can plan," Airbus SE said by email. The French planemaker said it employs 13,500 people in the U.K.
Voting for a deal would prevent the worst no-deal hazards, unlock a transition period for striking future arrangements, and guarantee the rights of citizens living abroad. But it's far from perfect, said Carolyn Fairbairn, director-general of the Confederation of British Industry, which claims to speak for about 190,000 businesses.
"The deal remains inadequate on services, which make up 80% of the U.K. economy," she said in an emailed statement. "And big questions remain about the feasibility of negotiating a new trade agreement deep enough in a 14-month transition period."
Shares of Tata Motors Ltd., owner of the luxury Jaguar and Land Rover brands, jumped the most in a decade after the deal was announced, although Jaguar Land Rover was hesitant to declare an end to the Brexit struggles of Britain's car industry.
"We welcome the latest developments and await the next steps, but we cannot comment further until we have considered the detail of the deal and know whether it is supported by Parliament," the company said in a statement.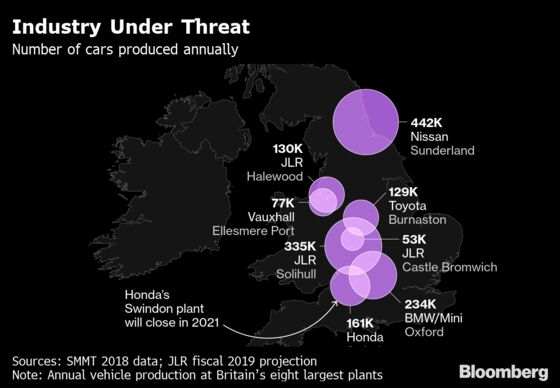 One possible sticking point for the auto industry revolves around "appropriate and modern" rules-of-origin provisions that would potentially add cost and complexity to manufacturing in the U.K., as carmakers would have to certify where parts came from. Under the plan put forward by former Prime Minister Theresa May, these checks wouldn't be needed.
Car manufacturers this week urged the government to make a deal with the EU and help safeguard the future of an industry that had been going through a renaissance in recent years as foreign brands invested in local plants. Export tariffs would make U.K.-built autos uncompetitive when sold in mainland Europe, they said.
"This moves us further away from a damaging 'no deal' Brexit and the huge and immediate tariff hit that would ensue," Mike Hawes, chief executive of the Society for Motor Manufacturers and Traders, said of Thursday's agreement. "To give the U.K. automotive industry certainty, however, and to assure its continued global competitiveness, we need a truly ambitious future relationship -- one based on tariff-free and frictionless trade."