U.K. Tax Break Pits Landlords Against First-Time Home Buyers
(Bloomberg) -- After five years spent making it easier for first-time home buyers to compete with investors, the U.K. government has changed tack.
All buyers, including landlords, will benefit from the government's decision last week to raise the threshold at which sales tax on homes is paid to 500,000 pounds ($627,000) until the end of March. That reduces a key advantage for first-time buyers, and raises the prospect of cash-rich investors snapping up properties and squeezing many young people out of the market.
For Sarah Smart, a 23-year-old youth worker, extending the tax break to landlords doesn't make sense. She's trying to get a mortgage to buy a 200,000-pound home in Bristol.
"I'm trying to cobble together a deposit on a small home, and that's really only possible because of a payout from a car accident I had," she said. "I don't feel like multi-millionaire landlords are the people the government should be prioritizing right now."
Chancellor of the Exchequer Rishi Sunak announced the tax relief as part of a 30 billion-pound plan to save jobs and inject confidence into the economy. Lockdown measures imposed in late March to slow the coronavirus outbreak effectively shut down the housing market, and the government has been trying to accelerate its recovery.
The tax break marks a "pretty fundamental shift" in government policy, according to Neal Hudson, founder of Residential Analysts.
"The government wants transactions happening regardless of who's doing them," Hudson said. "We might be seeing a big shift, once the current economic hit has become clearer, which will likely lead to more people stuck in the private rental market."
The government remains committed to helping first-time buyers, who will continue to pay no sales tax on property worth as much as 300,000 pounds even after the current temporary measure expires, a Treasury spokesperson said. "We are doing everything we can to get the country moving again."
Sunak's plan means 90% of buyers won't pay any sales tax on their homes. The tax relief will apply to landlords and second-home buyers, but a 3% surcharge for additional property purchases will remain in place.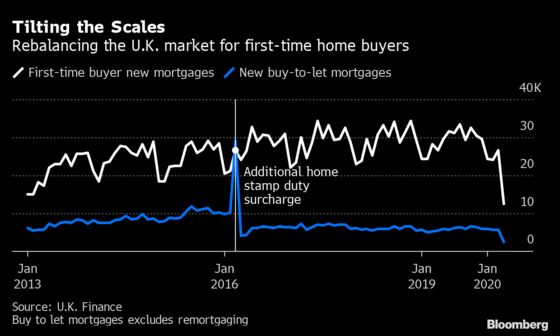 The opposition Labour Party criticized the tax cut as a giveaway to landlords and second-home owners, who it said stand to save as much as 1.3 billion pounds. The Treasury has estimated the cost of the measure at 3.8 billion pounds.
Investors poured cash into rental properties in the aftermath of the global financial crisis, driven by low interest rates and anemic returns on other investments. So-called buy-to-let lending to rental landlords surged, and house prices rose further out of reach for young people. In response, the government introduced a series of measures to tilt the market back in favor of first-time buyers.
The surcharge for landlords and second-home buyers came into effect in 2016, followed by a gradual roll-back of tax relief on mortgage interest payments. First-time buyers benefited from a reduction in sales tax for lower-cost homes. The government also extended a low-interest loan program called Help to Buy with changes that focused it more specifically on debut buyers.
The government's new tax break reduces the head start first-time buyers had enjoyed with the tax exemption on homes up to 300,000 pounds. Landlords, by contrast, began to pay the tax starting at 125,000 pounds, meaning they get a bigger benefit from Sunak's plan.
A big obstacle for many first-time buyers has been the shortage of low-deposit mortgages. Many lenders curtailed loans made with a 10% deposit to protect themselves if prices decrease. HSBC Holdings Plc, which still offers these mortgages, limits the number of the loans it makes at this level. "A small number of lenders cannot take all of the business at higher loan to values," a spokesperson said.
Nationwide Building Society will resume offering mortgages to first-time buyers with a 10% deposit on July 20, according to a company statement on Monday.
Since investors and landlords tend to have more cash available and don't need low-deposit mortgages, they may decide that this is the time to add a few properties to the portfolio, said Toby Bentley, a financial adviser at Lathe & Co.
"All the good houses that are there for first-time buyers and people with lower incomes might get snapped up by investors and landlords," he said.