U.K. Parliament Imposes Alcohol Rule After Outcry at Exemption
(Bloomberg) -- Bars in the U.K. parliament will no longer be exempt from the nationwide ban on the sale of alcohol in pubs after 10 p.m.
The U-turn comes after the Times reported that Westminster did not need to comply with an earlier closing time because its bars are classed as workplace canteens. After confirming the loophole, the House of Commons on Monday announced it would follow the 10 p.m. curfew with immediate effect.
Across London, and the country, people are now forced out of pubs on to the streets an hour earlier, sparking scenes of crowded outdoor revelry that appear to defeat the point of trying to promote social distancing.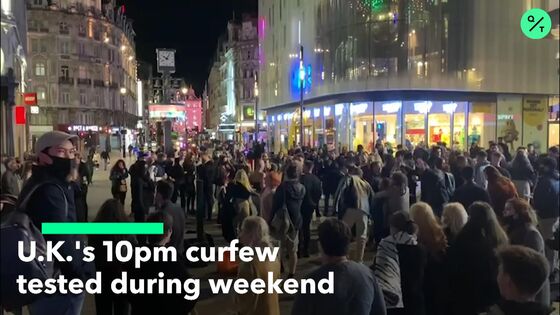 The loophole for the Houses of Parliament risked fueling the feeling of many Britons that there's one rule for government officials, and another for the rest of the country -- a sentiment that's persisted since Boris Johnson's top aide, Dominic Cummings, drove the length of England during lockdown in order to get childcare support for his four-year-old son.
In fact, because Parliament has not worked late since the hospitality curfew was introduced on Thursday, no alcohol has been served outside regulatory hours to date.
Following the rule change, Westminster's bars will still serve food for politicians and their staff staying late -- following social-distancing rules.