U.K. Minister's Virus Test Sets Up Tracing Challenge for Boris Johnson
The U.K.'s system to trace people exposed to coronavirus has been set an early challenge after Business Secretary Alok Sharma fell sick a day after meeting with Prime Minister Boris Johnson.
Sharma mopped his face and appeared unwell as he spoke in the House of Commons on Wednesday. A day later he was self-isolating as he awaited the result of a test for the virus. If it's positive, he'll be called by staff at Britain's test-and-trace program and asked who he's been in contact with.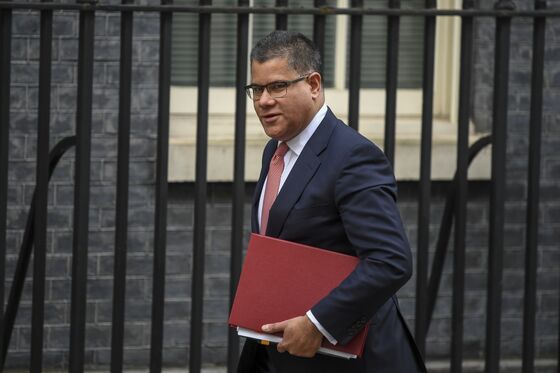 People who have spent more than 15 minutes within two meters of someone with Covid are instructed to self-isolate, meaning they have to to stay at home for 14 days. Health Secretary Matt Hancock said they have a "civic duty" to follow the rules, which also apply to those who've already had the disease.
On Tuesday morning Johnson, who was hospitalized with the virus in April, met Chancellor of the Exchequer Rishi Sunak and Sharma for 45 minutes in a room in the prime minister's London office, his spokesman James Slack told reporters.
Slack declined to say explicitly if Johnson will self-isolate for a fortnight if Sharma's test is positive and he's contacted by officials. The premier will "follow the advice which is being given by the medical experts," he said, adding that although the ministers didn't wear masks, they were socially distanced throughout the meeting.
Last month Johnson came under intense criticism amid claims there were different rules for those at the top and ordinary citizens after he stood by his senior adviser Dominic Cummings's decision to drive 260 miles (420 kilometers) to his parents' home at the height of the pandemic.
If Sharma has the virus, Johnson would risk facing that charge again if he doesn't self-isolate. He'll be hoping the business secretary's test comes back negative.