Johnson Faces U.K. Ethics Row Over Covid Rules, Tory Probes
Boris Johnson was dragged into another dispute over ethics, as he was forced to deny breaking U.K. Covid rules last year and Parliament's standards commissioner opened a probe into one of his cabinet ministers.
Opposition leader Keir Starmer accused Johnson of "taking the British public for fools," after the Daily Mirror newspaper reported he and members of his staff attended Downing Street parties before Christmas last year, in breach of pandemic regulations at the time. Johnson denied any rules were broken.
Their fiery exchange in the House of Commons Wednesday came shortly after it emerged Jacob Rees-Mogg, who runs Johnson's agenda in Parliament, is being investigated over an alleged breach of rules relating to outside employment and earnings. Scottish Conservative leader Douglas Ross also faces a probe over his financial interests, according to the standards commissioner's office.
In a statement, Rees-Mogg denied wrongdoing and said he is complying with the investigation. The Scottish Conservatives said in a statement that Ross had referred himself to the commissioner and would support her conclusions.
The developments come at a sensitive time for the prime minister after weeks of negative headlines about violations of lobbying rules by Tory members of Parliament and their second jobs. That's led to a drop in opinion polls for both the Conservatives and Johnson, which Starmer's Labour wants to capitalize on.
The revelations about last year's festivities in Downing Street could be especially damaging for Johnson at a time when he is imposing stricter Covid rules to tackle the emergence of the new omicron variant. That has raised the prospect that Christmas gatherings may be curtailed for a second year.
He's been hurt over the issue before, losing significant political capital by backing his former senior aide Dominic Cummings when he broke lockdown rules in 2020. The government faced intense criticism again in June, when then Health Secretary Matt Hancock resigned for breaching social-distancing rules. 
According to the Mirror, Johnson addressed a packed party for a departing aide in November last year, when the country was still in lockdown. Members of his team then held a party on Dec. 18 with about 40 to 50 people "cheek by jowl," the paper reported, citing people familiar with the matter it didn't identify. 
Pandemic rules in place at the time stated: "Although there are exemptions for work purposes, you must not have a work Christmas lunch or party, where that is a primarily social activity."
In the House of Commons, Johnson didn't deny that the events took place but said "all guidance was followed completely." His press secretary later told reporters that Johnson's office doesn't "recognize" the Mirror's account, while also refusing to deny the gatherings took place.
"Does the prime minister really expect the country to believe that while people were banned from seeing their loved ones at Christmas last year, it was fine for him and his friends to throw a boozy party in Downing Street?" Starmer said.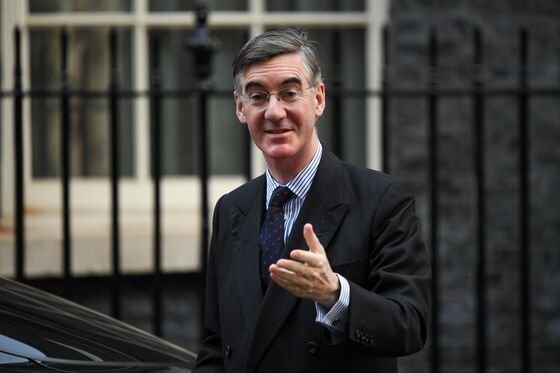 The new investigations into prominent members of the Tory party threaten to prolong a row that Johnson himself sparked when he tried -- and failed -- to prevent the suspension of a former minister found guilty of paid lobbying.
The office of Parliamentary Commissioner for Standards Kathryn Stone didn't detail the exact nature of the allegation against Rees-Mogg, other than to say she's looking at whether he breached a section of the code of conduct for MPs relating to his outside employment and earnings. 
The probe follows complaints from Labour that he failed to declare he'd received 6 million pounds ($8 million) in loans from one of his companies. 
In a statement following the announcement of the probe, Rees-Mogg said the loans have either been repaid with interest according to tax office rules or paid as dividends and "taxed accordingly."
"The register asks for earnings, not loans, which is why I was declared as a non-remunerated director until I resigned on entering government," he said. "Loans are not earnings and are not declarable in the register of interests."