Boris Johnson's Toned Down Back-to-Work Plan Has U.K. Confounded
(Bloomberg) -- Boris Johnson watered down his plan for rebooting the U.K. economy after employers and labor unions said many workplaces are not yet ready for the return to work he called for on Sunday night.
Just 24-hours after telling Britons they "should go to work if you can't work from home," the prime minister used a televised press conference on Monday evening to say they "should now think about going back to work providing your workplace is Covid-secure and providing you can travel to work safely."
The difficulty and dangers involved were reinforced by statistics published Monday morning showing construction workers -- one of the groups Johnson has urged to return to work the night before -- have one of the highest rates of death from the virus.
"We're not expecting, this week, a huge change, we're simply encouraging those in those sectors who can't work from home to talk to their employers and go to work," Johnson said in his modified message Monday. "Employers will not be able to get away with forcing workers to work in workplaces that are not Covid-secure," the premier added before telling workers to report rogue bosses to health and safety authorities.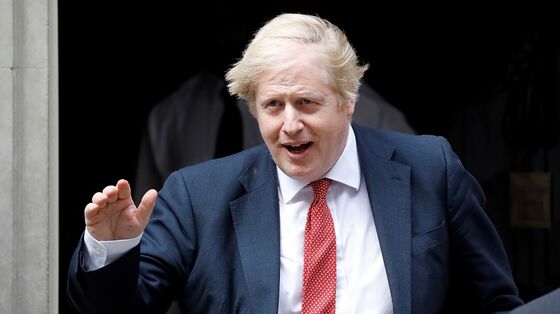 The shift in tone ended a day of confusion over the U.K. government's new messaging as business leaders expressed concerns and Wales and Scotland said they would be taking different approaches to ending the lockdown, shattering a cross-country consensus that has characterized the response so far.
On Sunday, the prime minister unveiled his plan for the U.K.'s haul back to normality. With the numbers of deaths and infections falling, he is attempting to find a balance between reopening the economy and avoiding a new spike in cases. Progress will be slow, Patrick Vallance, the prime minister's Chief Scientific Adviser, said.
"It's important that we take these very small steps, that's the way we're going to know what the effect is and we can monitor it," Vallance said as he stood alongside Johnson at the press conference. "Doing this step by step, monitoring carefully and measuring is a crucial part of how we take this forward."
Employers should publish risk assessments -- a key demand of the Trades Union Congress and the opposition Labour Party -- and will face spot checks to ensure they are taking proper steps to stem the spread of the disease. The government published a series of documents Monday evening giving guidance to different sectors of the economy.
The guidelines were published after research from the Office for National Statistics found nearly two-thirds of the 2,500 coronavirus fatalities analyzed were men, with builders, security guards, taxi drivers and chauffeurs, bus drivers and chefs the most at risk.
"If you are low paid and working through the Covid-19 crisis you are more likely to die -- that's how stark these figures are," John Phillips, Acting General Secretary of the GMB union said in a statement. "Ministers must pause any return to work until proper guidelines, advice and enforcement are in place to keep people safe."
Opposition politicians and unions accused the government of causing confusion with mixed messaging and putting the health of workers in danger.
Keir Starmer, leader of the opposition Labour Party, was scathing about the government's approach. "What the country needs at this time is clarity and reassurance," he told The House of Commons. "At the moment, both are in pretty short supply."
Under Johnson's plan, restrictions will be eased in phases. The immediate changes, taking effect May 13, are in three main areas: A return to work for those who need to leave their homes to do so; relaxation of rules on leaving the home for recreation; and an encouragement to wear face coverings in shops and on public transport to help stop the spread of the disease.