U.K. Lends British Steel $156m to Cover Emissions Costs
(Bloomberg) -- The U.K. government loaned British Steel 120 million pounds ($156 million) to cover the cost of meeting obligations under the European Union's carbon trading program.
Speaking in the House of Commons on Wednesday, Business Secretary Greg Clark said exceptional circumstances meant the government would offer the steel maker a bridging facility to cover the cost of the emission permits it needs.
British Steel, owned by private equity firm Greybull Capital LLP, found itself short of cash after the EU suspended the allocation of free permits to U.K. companies because of Brexit. The annual award is used by polluters to meet obligations in the program, but without it companies need to purchase the allowances on the open market.
Greybull bought Tata Steel Ltd.'s long products division, which makes products for the rail and building industries, on June 1, 2016, a few weeks before Britain voted to leave the EU.
The shortfall of carbon allowances arose after British Steel borrowed from its free allocation of EU carbon permits made in early 2017 to cover its 2016 emissions, according to a person familiar with the situation. From then on, it's needed to borrow free allowances to meet the previous year's obligations. Britain's delay in agreeing a Brexit deal has prevented U.K. companies from getting free permits this year.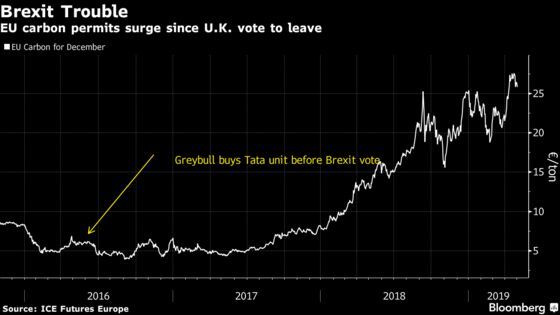 The company approached the government for help, resulting in the deal announced Tuesday. Clark said the government didn't want to see British Steel face financial difficulty because of Brexit, putting taxpayers in an "unenviable situation."
British Steel isn't alone. The shortage of allowances across continental Europe is set to become even more pronounced toward the end of next year, the end of the market's current trading period known as Phase 3. While emitters can use Phase 3 allowances for compliance in Phase 4 that runs from 2021 to 2030, a process called banking, they can't use the next phase's allowances to cover discharges for 2020.
"It's a huge issue and it's building," said Lawson Steele, an analyst at Berenberg Bank.