U.K. Labour Proposes 'Recovery' Bond as Starmer Gives Vision
(Bloomberg) -- The U.K. opposition Labour Party proposed a "recovery" bond to support Britain's post-pandemic economy, as leader Keir Starmer criticized the legacy of Boris Johnson's Conservatives ahead of the March budget.
Starmer said the bond would give savers a safe place to invest and raise funds for new infrastructure, supporting jobs and businesses. A decade of Tory government left Britain fragile entering the pandemic, he said, warning that a new wave of austerity or tax rises would "choke off our recovery."
"We can go back to the same insecure and unequal economy that has been so cruelly exposed by this virus, or we can seize this moment," Starmer said in a televised speech on Thursday. "That choice will define the budget, and it will define the next election."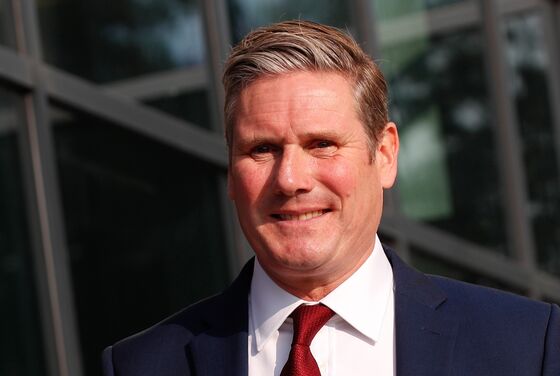 Chancellor of the Exchequer Rishi Sunak is scheduled to announce his financial plan on March 3, with the country trying to rebound from its deepest recession for more than 300 years. Starmer said the government should reverse planned cuts to the Universal Credit welfare payment, give more funding to local councils and extend the VAT cut for businesses in hospitality and leisure.
"The terrible damage caused by the virus to health and prosperity has been all the worse because the foundations of our society had been weakened over a decade," Starmer said. "This must now be a moment to think again about the country that we want to be."
Starmer's intervention comes as he seeks to inject fresh momentum into his leadership, with recent opinion polls showing Johnson's Conservatives holding a consistent lead over Labour despite the U.K. recording 118,000 deaths from the pandemic. Johnson has been boosted in recent weeks by the success of Britain's vaccination program.
The Labour leader struck a more pro-business tone than his predecessor, Jeremy Corbyn, who lost the 2019 general election to Johnson on a platform focused on re-nationalizing swathes of the economy. Starmer called for a "new partnership" with business, and said the way to deliver social justice and equality is with the help of private enterprise.
"A fair society will lead to a more prosperous economy," he said. "Inequality is not only morally bankrupt, it's economic stupidity, too."
He also acknowledged the challenge of winning back votes lost at the last election, including in areas of northern England that historically voted Labour, but flipped to the Tories in 2019.
"That obviously is a question of trust in the Labour Party," Starmer said. "We now can talk about what comes next."
Setting out a longer-term vision for the economy, Starmer focused on investing in "skills, science, universities and manufacturing." He said a Labour government would be committed to financial responsibility, and would not "spend money we can't afford."
"I know the value of people's hard-earned money," he said. "I take that incredibly seriously."