U.K. Labour Party Faces Long Recovery To Catch Up With Johnson
(Bloomberg) -- The next U.K. general election is still four years away and Conservative Prime Minister Boris Johnson enjoys a huge parliamentary majority. But who will next lead the Labour Party still matters.
The long stretch of political turmoil shows why the role is important. The U.K.'s parliamentary democracy lives and dies by a system in which a strong opposition holds the ruling side in check, and vice versa. That corrective voice is not present currently, and the party that grew out of the trade union movement at the turn of the 20th century risks irrelevance.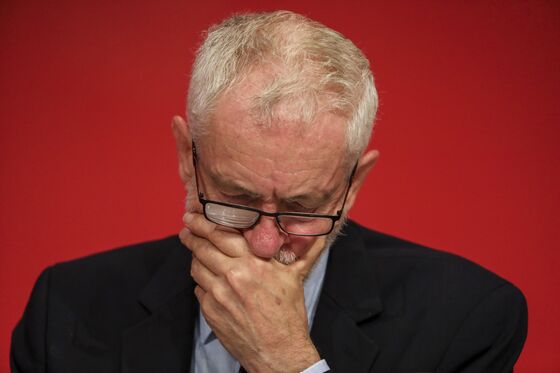 The election of a committed socialist, Jeremy Corbyn, as its leader took the party to the left, recoiling from its flirtation with the middle ground. Under Tony Blair, Labour won three consecutive victories, but today many members still see the legacy of their most successful leader as toxic.
But Corbyn has failed twice to defeat Brexit-divided Tories when they were at their weakest. The latest stinging defeat in December forced him to make way for a successor, and he leaves behind his own complicated baggage as voting on who takes up the pieces begins on Monday.
Corbyn's shadow looms large. He was a radical whose unexpected rise to the top was the first in a series of political shocks that signaled even before the Brexit referendum that voters were restive. He never held any government posts, but his long-held euroskepticism played a central role in the U.K.'s split from the European Union. And while commanding a loyal grassroots following, he still delivered his party's worst electoral performance since 1935.
The question facing Labour members over the next six weeks -- that is how long it will take to pick a new leader-- is whether to stick to what Corbyn stood for, or signal a fresh start.
They have three very different candidates to choose from. Arguing that she'll protect Corbyn's legacy is the party's business spokeswoman Rebecca Long-Bailey. Offering hints of a change of approach are the front-runner, Brexit spokesman Keir Starmer, and Lisa Nandy.
Aware that most party members vote soon after getting their postal ballots, the candidates will make a final push this weekend, with visit and speeches around the country. On Friday, Nandy will visit Halifax, in the north of England, while Long-Bailey will make a speech in Peterborough, 100 miles north of London.
One of the oddities of the contest, despite Labour getting slaughtered at the ballot box, is that none of the candidates has been willing to trash Corbyn.
That's because, whatever British voters think of Corbyn, Labour members continue to hold him in high regard.
A YouGov poll of them in January found he was the party's most popular leader of the last 100 years, beating Clement Attlee, whose 1945 government introduced the National Health Service, and Blair, who is hated by many over his support for the Iraq War.
Although Corbyn is officially staying neutral, the machine he built up within Labour, such as the Momentum pressure group, has swung behind Long-Bailey, leaving her perceived as the "continuity Corbyn" candidate.
Starmer is the choice of Labour Members of Parliament, backed by more of them that the other two candidates combined. He offers himself as someone who can end the infighting and be a plausible candidate for prime minister.
Nandy is the surprise success so far, having beaten expectations even to make it onto the ballot paper. Her pitch is that the party has to win back support in places outside London where voters regarded Corbyn as out of touch.
Various data, including nominations of local Labour branches, suggest Starmer will be the winner when the result is announced on April 4.
Even so, it's far from being over. Starmer's cautious approach toward Corbyn's legacy reflects uncertainty about how members will actually vote.
And with candidates having steered clear of frank discussion about what went wrong in the election, the leadership contest, now entering its third month, has done little to enliven politics beyond the party.
The key question for the winner will be how to energize Labour -- no easy task given Johnson's government has a majority of 80 seats in Parliament, allowing the prime minister to effectively do what he wants.
"That's the first challenge facing them, we're back into a scenario where oppositions struggle to be noticed," Anthony Wells, director of YouGov's political and social opinion polling, said in an interview.
But whoever becomes Labour leader also becomes Leader of the Opposition, an official position that comes with its own paycheck and privileges -- including the right to lead the questioning of the prime minister in Parliament. An effective leader, even one with no imminent prospect of forming a government, can still put a prime minister on the ropes and expose policy holes.
An ineffective one, on the other hand, can see Britain's political system struggle to cope. And candidates of all parties in the Dec. 12 general election said Corbyn was repeatedly cited as a reason not to vote Labour.
So Labour's new leader matters -- even though the next national poll is not scheduled until 2024.
If Long-Bailey wins, it will mean Labour members are determined to stick to Corbynism -- and the Tories are likely to see that as a free pass into the next election. A Nandy victory may unnerve them; a politician who can exceed expectations and whose northern constituency of Wigan ideally positions her to try to retake seats lost to the Tories in Labour's former heartlands.
If as expected Starmer wins, Johnson will face weekly questions from a skilled lawyer with a history of being across the details -- almost the antithesis of the prime minister's reputation.