U.K. Is Toughening Up Online Harms Bill, Culture Secretary Says
(Bloomberg) -- The U.K. is sharpening legislation to punish tech companies for harmful and illegal content, Culture Secretary Nadine Dorries told Parliament. 
"It's going to be in a much tougher and stronger place, particularly around protecting children and young people," she told the House of Commons Digital, Culture, Media and Sport committee Tuesday, describing changes to the government's Online Harms Bill since she was appointed in September.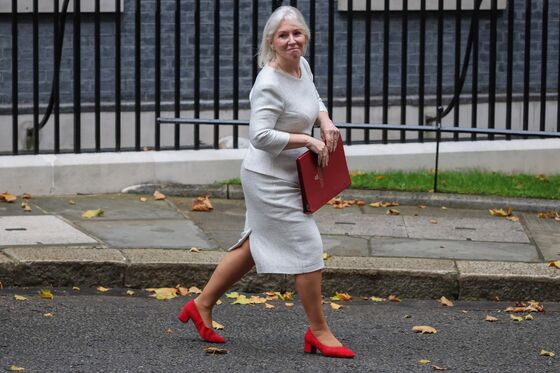 Tech executives could face criminal prosecution if they fail to rein in online abuse after as little as three months, Dorries said. Earlier papers suggested they would get a two-year deadline and that the government might not include criminal sanctions in the first instance of the law. Ministers expect to put the bill in front of lawmakers by March, she said. 
So-called cyber flashing should be illegal, she said, adding that she believes 'deep fakes' which can synthesize people into sexual images are now also in the scope of the rules. 
The bill will introduce powers to sanction web platforms who fail to curb illegal content, and the very biggest platforms, called Category One, will also have to crack down on posts deemed legal but harmful. Tech companies' compliance will be regulated by the media watchdog Ofcom.
Category One will almost certainly include the likes of Meta Platforms Inc.'s Facebook, though it's not yet clear about others.
Messaging platform Telegram, subscription video platform OnlyFans, and message boards such as 8chan and 4chan "would merit looking at carefully in that respect," Sarah Connolly, a senior civil servant at the Department for Digital, Culture, Media and Sport, said at the same committee hearing.