Johnson's 'Moonshot' Moves Closer as U.K. Virus Toll Hits 50,000
(Bloomberg) -- Boris Johnson's "moonshot" plan to use mass coronavirus testing to unlock Britain's economy overcame a key hurdle on the same day the U.K. became the first country in Europe to record more than 50,000 deaths.
A study found so-called lateral flow tests -- which do not require laboratory equipment and give results within 30 minutes -- are accurate and sensitive enough to pick up cases where people don't have symptoms, Public Health England and Oxford University said Wednesday.
The rapid turnaround checks, which are being trialled in Liverpool, northwest England, could eventually be used for regular self-tests at home, which experts say could significantly slow the spread of the virus.
The prime minister has repeatedly said mass testing is the key to getting the U.K. back to some form of normality and loosening social-distancing restrictions that have sapped the economy. A surge in coronavirus cases forced Johnson to impose a four-week partial lockdown in England from Nov. 5.
The U.K. reported 595 deaths on Wednesday, the highest daily toll for the U.K. since May 12, bringing the total to 50,365.
Yvonne Doyle, medical director of Public Health England, said the upward trend is "likely to continue" and it will be "several weeks" before the impact of England's lockdown is reflected in the data.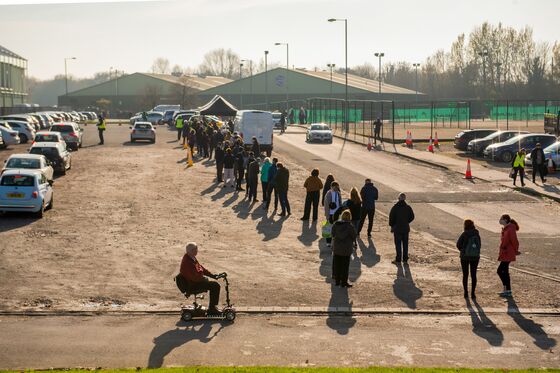 Johnson urged people to keep following restrictions to stop the spread of the virus after pubs, restaurants and non-essential shops were closed in England to avoid hospital services being overwhelmed.
"Every death is a tragedy and we mourn everybody who's gone," Johnson said in a pooled TV interview. "After the tough autumn measures which I hope people will stick to really, really rigidly as far as they can, we are very much hoping things will start to come to our aid."
The PHE/Oxford University clinical evaluation found lateral flow tests were effective in identifying cases that are infectious and most likely to transmit the disease. The fast turnaround also allows positive people to isolate quickly, reducing the spread of the virus.
The study comes in the same week as positive preliminary results were announced for a Covid-19 vaccine developed by Pfizer Inc. and BioNTech SE. Many governments around the world are hopeful an effective vaccine will help end the cycle of costly lockdowns.
Jonathan Van Tam, England's deputy chief medical officer, said in a televised press conference on Wednesday that the U.K. faces a "mammoth challenge" to vaccinate a million people a week once a vaccine is cleared for use, but he insisted the National Health Service is ready.
The true death toll from coronavirus could be even higher. Mortalities this year are running at 55,000 more than the five-year average in England and Wales, according to the Office for National Statistics. Only the U.S., Brazil, India, and Mexico have reported more deaths than the U.K., which has a population significantly smaller than each of those countries.
"It is a grim milestone," opposition Labour Party leader Keir Starmer said of the official death toll reaching 50,000. "We owe it to all of the families who are grieving to get on top of the virus and head toward a vaccine, and that's what the government must absolutely focus on now."