May's Chief Whip Tells Cabinet Vote Will Be Tight: Brexit Update
U.K. Attorney General Geoffrey Cox goes to Brussels to try to secure concessions that Prime Minister Theresa May hopes will help win Parliament's backing for her Brexit deal.
Chief whip tells Cabinet the vote next week will be tight (5:15 p.m.)
U.K. doesn't expect breakthrough in talks in Brussels on Tuesday, talks could extend into weekend (12:50 p.m.)
Labour opposition more upbeat on chances of containing rebellion in vote on deal (3 p.m.)
BMW, Toyota sound Brexit alarm; pound weakens

Whip Said to Warn Cabinet The Vote Looks Tight (5:15 p.m.)
The government's chief whip told the Cabinet that the vote next week on May's Brexit deal will be tight, according to three people familiar with the situation.
Julian Smith indicated the government still isn't sure of having the numbers to get the deal through, and he doesn't know which way it will go. May is aiming for a vote by March 12, once she's concluded talks in Brussels aimed at getting tweaks to the agreement.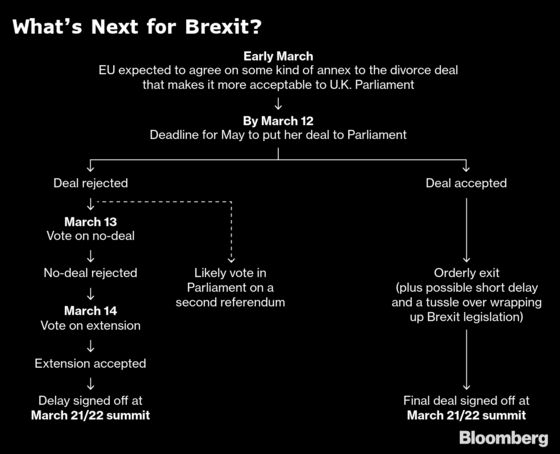 May Likely to go To Brussels Before Tuesday (4.20 p.m.)

A government official, speaking on condition of anonymity, said that negotiating with the EU before Tuesday is a "tight" deadline and Theresa May could head to Brussels at the weekend to sign off any changes agreed with the bloc. May has promised Parliament will vote on her deal, changed on not, on March 12.
Duncan Smith Says Most Back No-Deal; Polls Differ (3:25 p.m.)

Pro-Brexit Conservative Iain Duncan Smith said in a Bloomberg television interview that the "vast majority" of Britons want to get on with leaving the bloc, and that a "majority are happy" to leave with no deal. His comments prompted criticism on Twitter in the increasingly febrile atmosphere of British politics.
While polls paint a mixed picture, most show that Remain vs Leave is still tight, and support for a no-deal exit is low. A YouGov poll in January put support for no-deal at 28 percent, a result that's in line with other surveys.
Irish Cautious About May's Chances (3:40 p.m.)
Ever the cautious type, Irish Foreign Minister Simon Coveney said it was too soon to be optimistic about the prospects of Theresa May's deal passing through Parliament. Speaking to reporters in Dublin, he said his understanding is that recent negotiations "have been difficult in Brussels."
To gain impetus, the talks needed less of the British changing their asks and more what can we do to solve this problem, he said. At the same time, he said the chances of a no-deal Brexit appeared to be fading.
Meanwhile, Irish Prime Minister Leo Varadkar was warned in parliament that any extra guarantees offered to the British must not undermine the backstop. Varadkar confirmed that guarantees and assurances around the temporary nature of the backstop were under discussion, but the fundamental nature of the measure wouldn't change.
Labour Said to Be Confident It Can Contain Rebellion (3 p.m.)
Labour officials are more upbeat than they have been in recent days about the chances of maintaining enough party discipline to get May's deal defeated next week. Speaking privately, three officials said they're confident any rebellion will be below 10, even though whips have as many as 30 members of Parliament on their list of potential rebels.
The numbers are important because May is probably going to need Labour MPs if she wants to get her deal approved in Parliament.
The prospect of defeating the Conservative government is one reason for MPs to vote with the party and against May. What's more, if the deal looks like it won't pass anyway, Labour politicians are less likely to risk their careers to try to get it through.
The next big decision for the Labour leadership is how to tell MPs to vote on an amendment calling for a second referendum. The shadow cabinet is split, according to another person familiar with the situation. That's a recognition that many members of Parliament representing areas that voted Leave are wary of advocating a move that could overturn the 2016 plebiscite.
Labour Still Deciding on Referendum Amendment (1:20 p.m.)
Shadow Chancellor John McDonnell said the Labour leadership is currently deciding whether to put down its own amendment next week for a public vote on Brexit, or to back an existing backbench proposal.
McDonnell told reporters Tuesday he expects lawmakers Peter Kyle and Phil Wilson to publish a revised version of their amendment next week. It currently offers to back May's Brexit deal, as long as it's then put to a public vote.
He also said he doesn't expect many Labour lawmakers to vote for May's deal next week, criticizing the government's efforts to woo lawmakers with a spending boost for poorer areas of the U.K.
The party will also put pressure on the government to publish its tariff plans for a no-deal Brexit before Parliament votes on May's Brexit deal next week.
Still Lots of Work to Do on Backstop: Slack (1:10 p.m.)
May told Cabinet on Tuesday her team continues to seek legally binding changes to the backstop to "allow MPs to support the meaningful vote," her spokesman, James Slack, told reporters. "There's a lot of work still to do."
"We're working at pace to secure the changes we need and the next stage of that is the meeting taking place today," Slack said.
U.K. Said Not to Expect Breakthrough Today (12:50 p.m.)
The U.K. isn't expecting a breakthrough in talks in Brussels tonight, according to a person familiar with May's thinking. While the premier is unlikely to travel to Brussels before Friday as the talks continue, she may over the weekend, the person said.
No agreement on the backstop is likely before the end of the week and talks could even stretch into the weekend. Cox may present his new legal text to Parliament on Monday, allowing MPs one and a half days to scrutinize the detail before they vote on it on the evening of Tuesday, March 12.
U.K. Says Lots of Work Still to Do on Backstop (12:30 p.m.)
Cox and Barclay still have a lot of work to do on improving the Irish backstop, according to a U.K. government spokesman.
May chaired a Cabinet meeting earlier on Tuesday and reiterated that she's seeking legally binding changes to the backstop, the part of the divorce deal that Brexiteers hate because it risks tying the U.K. into EU rules forever.
Hammond Sees Huge Amount of Pent-Up Investment (12 p.m.)
Chancellor of the Exchequer Philip Hammond returned to a familiar theme on Tuesday -- the pent-up investment that's just waiting to be unleashed once the Brexit deal is ratified.
There is a "huge amount" of investment on hold, he told Parliament.
Business investment has fallen for four consecutive quarters, with spending between October and December almost 4 percent lower than a year earlier. Investment fell at the fastest pace since the financial crisis last year.