U.K. Holds Off Pre-Christmas Virus Curbs With Eye on Economy
(Bloomberg) -- Boris Johnson's government suggested there won't be new coronavirus restrictions imposed before Christmas, as ministers stressed the need to balance public health with protecting the U.K. economy.
"We're saying to people they should continue with Christmas, but in a cautious way," Cabinet Office Minister Steve Barclay said on LBC Radio on Tuesday, when asked if the rules were going to change. The government must be "clear-eyed" about the economic consequences of any curbs, he later told the BBC.
Johnson has so far resisted imposing some of the measures recommended by his scientists, including limits to household mixing, to contain the spread of the highly-transmissible omicron variant. Doing so would be politically risky for the prime minister, who is boxed in by opposition in his Conservative Party and cabinet, with ministers demanding further data on the severity of omicron.
But many people are taking matters into their own hands, canceling restaurant bookings and other events as Covid-19 cases surge. Barclay said Chancellor of the Exchequer Rishi Sunak will speak later Tuesday about financial support for companies losing out in the latest phase of the pandemic.
Barclay didn't rule out new restrictions being brought in after Christmas, though he said government will wait for further data on omicron's impact on hospitalizations and deaths before making such "finely balance decisions."
"There's still much we don't know," Barclay said on the BBC.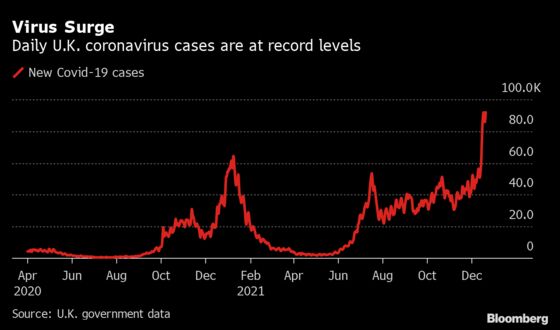 All the while, Johnson is being urged by scientists not to wait. The risk for him is that omicron does turn out to be as severe as previous waves of coronavirus, leading to another spike in deaths and the National Health Service potentially becoming overwhelmed.
The government's Scientific Advisory Group for Emergencies warned last week that without further rules, daily hospitalizations could reach a peak of at least 3,000. If the aim is to avoid those levels, "more stringent measures would need to be implemented very soon," it said.
"We're going to need a few weeks of more intense control measures to prevent and mitigate some of this," Andrew Hayward, an epidemiologist at University College London who sits on the government's Sage committee, told BBC radio on Monday. "The later you start, the less effective it will be."
The U.K. hospitality sector said December is set to be a "disaster" for the industry with restaurants and pubs seeing mass cancellations of bookings during their traditionally most lucrative period. Businesses will fold without government support, lobby group UKHospitality said in a statement.