Johnson Doesn't Rule Out More U.K. Virus Curbs Over Omicron
(Bloomberg) -- Boris Johnson repeatedly declined to rule out imposing further coronavirus restrictions before Christmas to tackle the spread of omicron, as he confirmed the first U.K. death linked to the new coronavirus strain.
"Throughout the pandemic I've been at great pains to stress to the public that we have to watch where the pandemic is going, and we take whatever steps are necessary to protect public health," the British prime minister told reporters at a vaccination center in London on Monday. He also said omicron would account for the majority of cases in the capital city by Tuesday.
Health Secretary Sajid Javid, who earlier said there's no certainty the government will be able to keep schools in England open, told Parliament that omicron infections in the U.K. are now estimated to be about 200,000 a day.
Ministers face a balancing act as they attempt to tackle the surge in cases just as a growing number of politicians in the ruling Conservative Party threaten to rebel against new restrictions on mask-wearing and so-called vaccine passports already announced last week.
Johnson warned those MPs against "complacency" in the face of the virus, ahead of key votes in Parliament on Tuesday.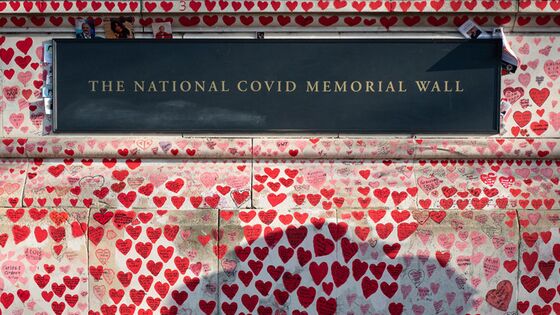 In a hastily arranged address late Sunday, Johnson said the U.K. faces an emergency over omicron and announced an accelerated booster program to get the country through the crisis. 
Yet the numbers involved demonstrate how quickly new curbs may become necessary. Johnson said the National Health Service will need to match its best vaccination day yet -- 844,000 in March -- and then must beat it "day after day" to achieve the target of offering all adults a booster by the New Year. 
The U.K. is deploying military planning teams to help with the rollout, with new sites opening and vaccine centers open seven days a week. Some 750 armed forces personnel will be mobilized, mainly to administer vaccines, with 50 military planning experts co-ordinating the national effort.
The government is "working to increase capacity" for booking booster shots online, Johnson's spokesman Max Blain told reporters, after the NHS website crashed on Monday morning amid high demand. 
There is also "no shortage" of free lateral flow tests, Blain said, despite them being unavailable on the government website. People can collect test kits at their local pharmacy or community site, the U.K. Health Security Agency said.
He also said there are currently no plans to close any venues to limit the spread of omicron, though all options are being kept under review.
As the threat from omicron became clearer, the government did introduce new restrictions in recent days, including mandatory face coverings in indoor public spaces and bringing back guidance for people to work from home.
From Wednesday, people will need to show a negative lateral flow test result to get into nightclubs and large events, with an exemption for those who have had two vaccine doses. This exemption will be changed to require a booster dose "once all adults have had a reasonable chance" to get one," Javid told MPs.
Children aged 12 to 15 will also get access to Covid passes for international travel from Monday, so they are able to prove their vaccine status where needed, Javid said.
Scientific advisers including Susan Hopkins, chief medical adviser for the U.K. Health Security Agency, suggested Sunday that additional measures may soon be needed to prevent a surge in hospitalizations
Tightening further would be risky for Johnson, who has staked considerable political capital on allowing gatherings and other festive activities to go ahead this Christmas. It would also trigger further anger among restless Tory MPs.
The CBI, Britain's biggest business lobby group, warned the government's rhetoric risked "instilling a lockdown mentality" that will hurt companies, even though the rules being voted on in Parliament fall "far short of that."
Johnson's authority with his party and in public health messaging has been weakened in recent weeks after a steady drip of damaging allegations around Covid-19 rule-breaking Christmas events last year.
On Monday, Johnson said he "broke no rules" over the festivities in Downing Street. Simon Case, the U.K.'s top civil servant, is investigating the alleged gatherings, including a virtual quiz that Johnson took part in.
The premier faces a crunch day in Parliament on Tuesday, with a series of votes on the new Covid rules. Rebel Conservative MP Steve Baker estimates around 60 colleagues will vote against Johnson.
Still, the measures are expected to pass, as the opposition Labour Party is expected to vote for them. The real risk for Johnson lies in what comes next, if the new rules and booster program prove insufficient against omicron.
"We need to get those third doses in to as many adults as we possibly can," Robert Read, a member of the Joint Committee for Vaccines and Immunisation, told LBC radio. "Just in case this virus turns out to be a raging bull."