May Keeps Dodging Questions on a Customs Union: Brexit Update
(Bloomberg) -- The U.K. government said it's "hopeful" an agreement can be reached on a consensus approach to Brexit with the opposition, as the Labour Party predicted Prime Minister Theresa May will have to agree to a customs union. May has set a deadline of next week for talks to conclude.
U.K. spokesman says government hopeful a deal can be reached with Labour
Labour says May will be forced to accept a customs union -- something she has long rejected
Labour says what a customs union is called isn't the most important thing, in a sign of potential compromise; May also hints there's wiggle room in the language
Government cancels no-deal Brexit ferry contracts
Pound strengthens
May Keeps Dodging Questions on Customs Union (4:05 p.m.)
Amid growing speculation that May will have to agree to staying in a customs union with the EU after Brexit, the prime minister keeps dodging questions on the issue.
Lawmakers are grilling her on where talks with Labour could end, but she won't bite. She said the term 'customs union' can mean different things, and rather than getting fixated on "models," it's important to look at the detail of what each side is trying to achieve.
Labour said earlier the name isn't the most important thing. Stand by for some new terminology.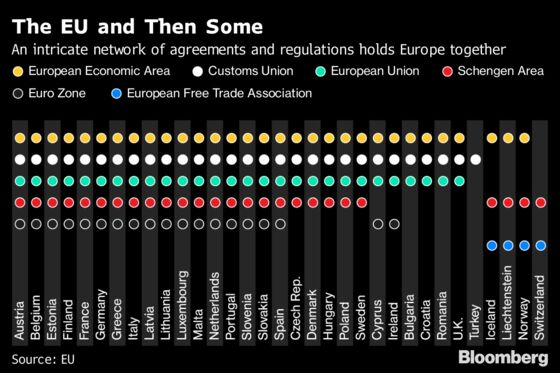 May Won't Set a New Target Date for Brexit (3:55 p.m.)
May told members of Parliament she's "reluctant" to name a new target date for getting Brexit done as earlier deadlines have been missed.
She wants to get it done as soon as possible. It's still not clear if there's a "landing zone" in talks with the Labour Party, she said, and if talks don't prosper, the next step would be votes on various Brexit options in Parliament.
May Says There's Common Ground With Labour (3:37 p.m.)
May said there's some "commonality" between Labour and the government on the issue of customs. She repeatedly declined to be drawn on whether she was shifting her position on ruling out a customs union, and said the term meant different things to different people.
On the issue of trade and customs, "we are trying to achieve something very similar," including protecting jobs, she told members of Parliament.
May Says No-Deal Could Be Forced on U.K. (3:10 p.m.)
May was asked what the government's policy now is on a no-deal Brexit. Her answer: She's aiming to leave with a deal, but it's not entirely up to the U.K. government. If Britain requested another extension beyond Oct. 31, it would be up to the EU27 to decide, she said.
May said for her, the only "acceptable" option now is to find a majority in Parliament for a deal. She described the prospect of a second referendum as admitting defeat, and handing responsibility back to the public.
May Also Says It's Not About the Name (3:05 p.m.)
Labour said earlier that what a customs union is called isn't the most important thing. May seems to agree: "Various terms are used" when customs arrangements are discussed, she told a panel of lawmakers.
Labour Signals Compromise Is Possible (1:25 p.m.)
One of Labour's key demands in talks with the government is maintaining a customs union with the European Union after the split so that businesses can continue to have tariff-free trade with the bloc. A spokesman for the Labour Party told reporters on Wednesday that the name of that customs setup isn't the most important thing. That could be a sign there's scope for compromise.
It is important because May has publicly ruled out a "customs union," while arguing for something that in many ways looks a lot like one. EU officials have long said they thought her deal was a step toward a long-term customs union.
May has made the point before that there isn't that much space between what she is trying to achieve in a future customs deal with the EU and what Labour wants. But if she calls it a customs union, many Conservative Brexit-backers will find it unacceptable.
Government is Hopeful on Deal with Labour (1 p.m.)
"We are hopeful it may be possible to come to an agreement," May's spokesman told reporters in London on Wednesday.
The spokesman didn't deny that some kind of customs union could be on the table. Still, he repeated the line that both sides will need to move for an agreement, and said it's not desirable for the U.K. to be prevented from doing its own trade deals -- which it could be in a customs union.