May Suffers Parliament Defeats Ahead of Key Vote: Brexit Update
(Bloomberg) -- U.K. Prime Minister Theresa May has been defeated in three key votes in Parliament as she battles to get her Brexit deal through.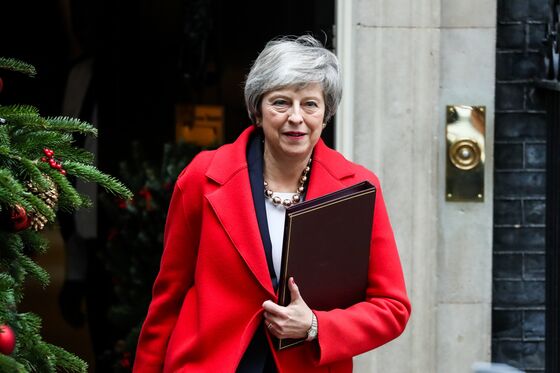 May lost two House of Commons votes forcing her to publish secret government legal advice on her Brexit deal. She's promised to release the file on Wednesday.
The premier then lost a third big vote that could prove even more significant: it gives Parliament the power to shape the final Brexit settlement if, as expected, May fails to get her deal approved in the Commons in a vote on Dec. 11.
May: "I don't say that this deal is perfect. It was never going to be."
Boris Johnson Suggests He Could Ditch Brexit (9.30 p.m.)
Pro-Brexit Tory Boris Johnson, who quit as foreign secretary in protest at May's plan for keeping close to EU trade rules, savaged her deal. The government should go back to Brussels and say Britain will leave without one, he said.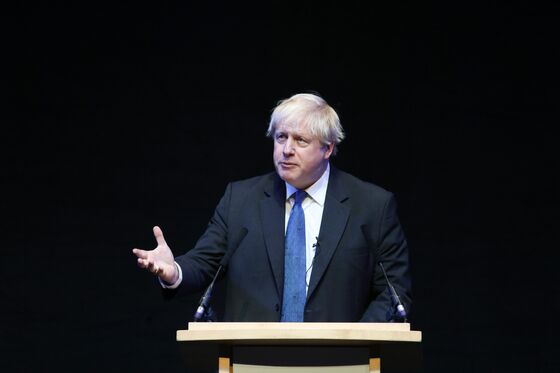 Johnson was asked if he felt May's plan was so bad that staying in the EU would be better. " "It's a finely balanced question," he replied.
Johnson's attack was squarely directed at his former boss, the prime minister, who was sitting in the Commons chamber throughout. Johnson criticized May's chief of staff and suggested her heart was not in the project.
"Some of the people who have been negotiating this deal seem to regard Brexit as a disaster to be managed," he said. In fact, Britain can and should seize its moment of freedom, even if leaving without a deal would require "a great national effort."
The Brexit-backing public will never forgive Parliament for betraying the 2016 referendum, he warned.
Although his political stock has fallen in Parliament since he resigned in July, Johnson remains popular among grassroots Tory party members, who are likely to get the final say over the next party leader.
Corbyn: Labour to Vote Against Brexit Deal (7:35 p.m.)

"This is not the deal the country was promised," Labour leader Jeremy Corbyn said. "And Parliament cannot and I believe will not accept it. The false choice between this bad deal and no deal will also be rejected."
Grieve: Parliament Is 'Taking Back Control' (7 p.m.)
Dominic Grieve, a key voice in the campaign for a second referendum, has responded after his amendment to give Parliament more power over the Brexit process was passed.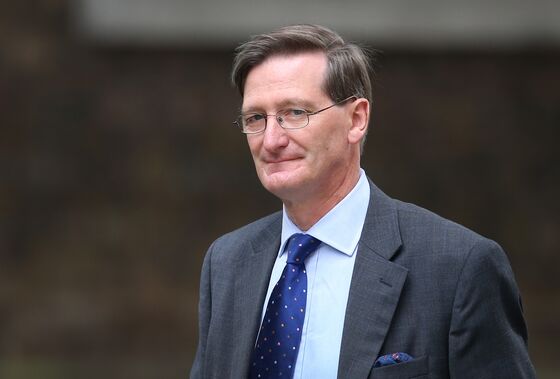 "No longer must the will of Parliament -- reflecting the will of the people -- be diminished," Grieve said in a statement issued by the People's Vote campaign. "Parliament must now take back control and then give the final decision back to the public because, in the end, only the people can sort this out."
"More and more MPs are concluding that the Government's proposed deal is not what was promised two years ago," he said. "It's a much worse deal than the one we've already got in the EU and, if approved would mean Brexit goes on forever because it leaves all the big questions unanswered."
May Promises Parliament Role in EU Talks (6:40 p.m.)
May has been speaking in the Commons, opening the first of five scheduled days of debate on her deal. She's been presenting her deal to Parliament as a reasonable compromise between competing interests.
"I don't say that this deal is perfect. It was never going to be," she said. "That's the nature of a negotiation."
It's mostly a familiar message, but one new line stood out: a promise to give Parliament a formal role in Brexit negotiations, and to consult the public.
"For the next stage of negotiations, we will ensure a greater and more formal role for Parliament," she said. "The government will consult more widely and engage more intensively as we formalize our mandate for the next stage of the negotiations."
The question is whether her new pledges have come too late. Hilary Benn, chairman of the Commons Brexit select committee, warned earlier (5:50 p.m.) that the trust is gone.
Row Over May-Corbyn Debate Rumbles On (6:25 p.m.)
It's unclear if the televised debate between May and Labour leader Jeremy Corbyn, scheduled for Sunday, will happen.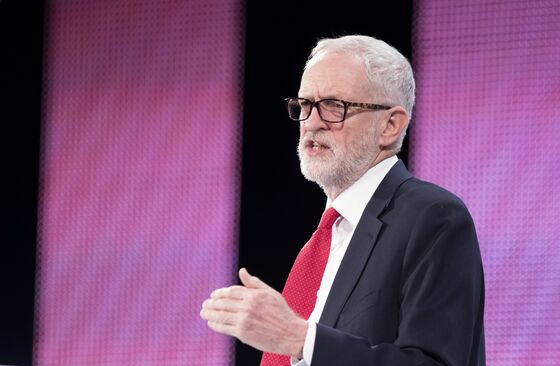 The BBC, favored by the prime minister, has dropped out, and her office is refusing to say whether she will go on ITV, favored by Corbyn. He wants a simple head-to-head debate. Her team want a panel which would cross question both of them.
Given that May and Corbyn are broadly agreed that Britain should have a Brexit that gets control of immigration with the least possible damage to trade, the question others are asking is why other points of view can't be heard.
May Defeated Again as Parliament Boosts Powers (6:05 p.m.)
Dominic Grieve's amendment to the Business Motion, which gives Parliament the power to vote on other options if May's deal is rejected, passed 321 to 299.
It's a mark of how fast things are moving that we didn't even know about that amendment 24 hours ago, and now it's changed the terms of trade. Brexit supporters are arguing that it doesn't matter, because even Parliamentary votes can't bind the government. But that sounds a little hollow today, after votes in Parliament have forced the government into a climbdown over publishing its legal advice.
Parliamentary rebellions expert Philip Cowley, professor of politics at Queen Mary, University of London, said he thinks the last time a government lost three votes in one day was 40 years ago, in 1978. That was a minority Labour government, on the question of how a vote on Scottish devolution should be run.
The Significance of Contempt Vote (5:50 p.m.)
Why does the contempt defeat matter? The government seems very likely to lose the Dec. 11 vote on May's Brexit deal, and the full legal advice is unlikely to change many minds. There also don't look like being any actual repercussions from the contempt finding.
There are many more votes coming. Even if by some miracle May got her deal through Parliament on Dec. 11, she has a lot of legislation to pass before the end of March.
May doesn't have a majority. The Northern Irish Democratic Unionists, who had been propping her government up, are angry with her Brexit deal and can't be relied on. Even when almost every Tory backs May, that's not enough.
There's a lot of bad blood. Brexit Committee chairman Hilary Benn summed up the relationship between government and Parliament: "This whole process unfortunately has shown the government's marked reluctant to listen to the House, to trust the House, to share information with the House. I suspect that what the government has sown it will reap.''
In other words, May can't win the votes she needs to. And to get Brexit through successfully, she needs to win a lot of votes.
Pound Falls on Government Defeat (5:50 p.m.)
The pound slipped as much as 0.5 percent to $1.2659 -- the weakest since June 2017 -- following the government's defeat in the contempt vote, which exacerbated concerns May will be unable to get her Brexit deal through Parliament next Tuesday.
Government to Publish Legal Advice (5:10 p.m.)
Leader of the House of Commons Andrea Leadsom announced that the government is backing down, and will publish the Attorney General's final Brexit legal advice on Wednesday.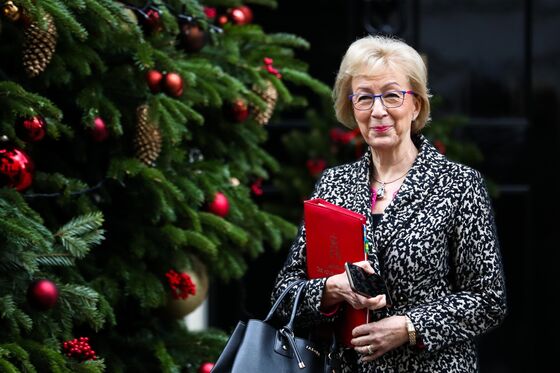 "We've tested the opinion of the house twice on this very serious subject," she said. "In light of the express will of this House, we will publish the full and final legal advice."
Government Found in Contempt (5 p.m.)
May's government has been found in contempt of Parliament, a moment without precedent in recent history, over its refusal to release the Attorney General's legal advice on Brexit.
Even with almost all of the Conservative Party voting with her, May still lost 311 to 293, after her sometime allies in the Democratic Unionist Party said they would vote against.
It's a terrible start to May's apparently doomed campaign to get her Brexit deal through Parliament and a reminder of the difficulties of minority government.
Government Fails to Water Down Contempt Motion (4:45 p.m.)
The government has lost its attempt to water down the opposition contempt motion. It was a tight vote, with the government amendment rejected 311 to 307 -- a reminder that without a majority, May can't win even if, as she did on this, she manages to unite most Conservatives behind her.
Parliament will now vote on the unamended motion, which demands the government release the legal advice and finds ministers in contempt. These are constitutionally uncharted waters.
Playing for Time? (3:30 p.m.)
You wait ages for a filibuster, and then two come along at once. After Foreign Minister Alan Duncan was instructed to keep talking last night in order to buy time for ministers to draft an amendment to the contempt motion, there are signs that Conservative members have been asked to stay on their feet in order to give the whips time to get their vote sorted.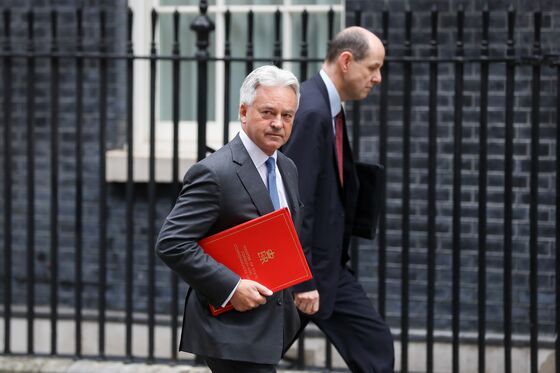 Tory Peter Bone, while telling the chamber he planned to vote against the government on the contempt question, said he'd been summoned to see Chief Whip Julian Smith. With the chamber nearly empty, another Conservative, Bernard Jenkin, then rose. He announced he hadn't planned to speak at all, and then spoke for eight minutes. The subsequent speakers also seem to be taking their time.
Tories Backing May in Contempt Debate (2:40 p.m.)
At least on one issue, May still seems to have the support of her members of Parliament. Both wings of the Tory party are rowing in behind her on the contempt debate, with Brexit opponent Dominic Grieve and Brexiteer Jacob Rees-Mogg both saying they'll vote with the government.
That gives the prime minister a fighting chance -- but not more than that. Remember, May has no majority, and the Democratic Unionist Party are against her on this one, so even if every Tory votes with her, she's got no guarantee of winning. This looks like it will come down to who can get their vote out.
Starmer Says Government in 'Contempt' (1:10 p.m.)
Labour's Keir Starmer formally proposed the motion that the government is guilty of being in "contempt of Parliament." He said ministers are willfully refusing an order from the House of Commons to publish the government's full internal legal advice on the Brexit deal May struck with the European Union.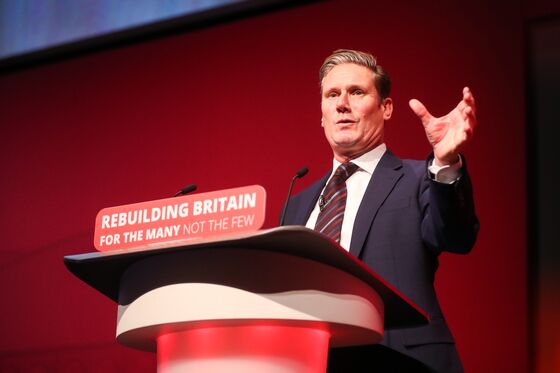 "The government is refusing to comply with that order," Starmer said. "That is contempt of Parliament."
Starmer's argument spells trouble for May, not least because he has all the main opposition parties lined up behind him -- and even Northern Ireland's Democratic Unionist Party, which props up May's minority government.
Andrea Leadsom, a Cabinet minister, defended the government. She said Parliament has long recognized that "information cannot always be disclosed" and sometimes must be held back because publishing it wouldn't be in the public interest. She's proposing an amendment to Starmer's motion, which would buy the government some time.
Officials suggested earlier that this debate could go on until 7 p.m. with a vote to settle the issue expected at the end. Only once this is dealt with will May get to open the five days of debate on her Brexit deal.
Government Steps Up No-Deal Planning (12:20 p.m.)

British businesses will get detailed instructions on how to import and export if there's no Brexit deal, as the government ramps up its preparations. The government is writing to 145,000 businesses that trade only within the European Union, setting out what they need to do immediately, including registering as an "economic operator.''
For many smaller businesses, this will be the first taste of the kind of work they're going to need to start doing from next March if there's no deal.
The government has held off from giving this kind of advice earlier, partly because ministers worried about being accused of fear-mongering. But it could help to sway some members of Parliament to back May's deal if businesses start leaning on them. And if the deal doesn't go through, then No Deal becomes a distinct possibility, and businesses do need to prepare.