U.K. Set for Tax Hikes as Bigger State Seen Outlasting Covid
(Bloomberg) -- The U.K. could be facing a long-term increase in the size of the state as well as a substantial tax increase as a result of the coronavirus pandemic, according to the Institute for Fiscal Studies.

The influential research group said Tuesday it is "highly plausible" that government spending is around 45% of gross domestic product by the middle of the decade, a level not sustained since the 1970s.
The prospect of a significant enlargement of the state underscores the major political shifts brought about by the pandemic.
Once the party that prided itself on keeping tax and spending low, the ruling Conservatives are now presiding over unprecedented levels of debt in a bid to support the economy.
Spending equivalent to 45% of GDP would put Britain on a par with pre-pandemic levels in Germany, but well below France and Finland where the ratio was above 50%. In the last fiscal year, the U.K. spent less than 40%.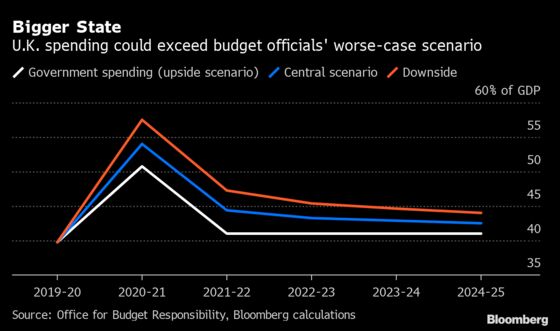 Government departments have already received an extra 70 billion pounds ($90 billion) as part of the virus response, and costs relating to procuring personal protective equipment and running the test and trace program can be expected to persist, the IFS said.
That would eat up a "huge chunk" of the additional government spending planned before the pandemic, leaving Chancellor of the Exchequer Rishi Sunak to choose between imposing austerity on some departments or finding an additional 20 billion pounds by 2023-24.
IFS Director Paul Johnson said Britain is facing "really substantial" tax increases in the medium term, though Sunak is likely to refrain from doing this until 2022 in order to avoid damaging the recovery.
Prime Minister Boris Johnson swept to power in December on a promise to "level up" poorer regions in northern England and the midlands. Many of them backed the Conservatives for the first time but have since been hit hard by the pandemic, increasing pressure on the government to deliver on its pledge to reverse much of the painful austerity pursued following the financial crisis.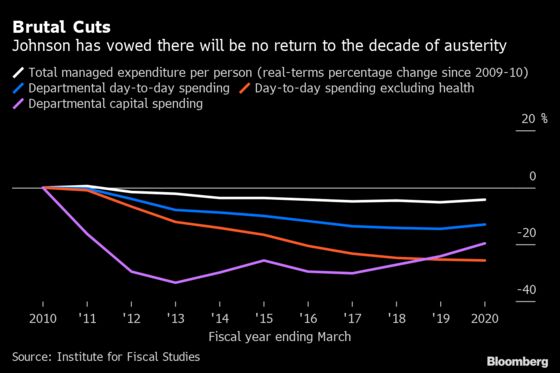 The demands for extra spending come at a time when the economy is facing an outlook that is difficult to predict, made worse by the prospect of Brexit chaos as Britain and the European Union remain deadlocked in negotiations over a trade deal, the IFS said.
Given the uncertainties, Sunak should limit his spending review due in the coming months to just one year -- 2021-22 -- rather than set multi-year departmental totals, it said.