U.K. Cuts Growth Forecast Amid Parliament's Brexit Chaos
Chancellor of the Exchequer Philip Hammond used his spring statement to hint that he wants Theresa May to soften her red lines on Brexit, urging all sides of Parliament to work together to agree a deal.
Ahead of two crunch votes this week, Hammond said he now wants to reach a cross-party consensus on Brexit and agree a deal that protects jobs and businesses.
His statement comes after the House of Commons overwhelmingly rejected May's proposed withdrawal agreement for a second time on Tuesday night, and hours before members of Parliament were due to vote on a no-deal Brexit.
"Tomorrow, we will have the opportunity to start to map out a way forward towards building a consensus across this House for a deal we can collectively support," he said, urging everyone to seek a compromise.
Hammond said any deal should be one that enables Britain to "flourish, protecting jobs and businesses." Some will see that as a signal he's looking for a softer Brexit than the one May's deal offers. On Tuesday, May said her deal remained the only one on offer.
The chancellor also issued a stark warning about the impacts of a no-deal Brexit and urged politicians to rule it out in a vote Wednesday evening. Parliament's rejection of May's deal created a "cloud of uncertainty", he said, warning that crashing out would cause "significant disruption in the short and medium term."
"A brighter future is within our grasp," he said. "Tonight, let's take a decisive step towards seizing it and building a Britain fit for the future. A Britain the next generation will be proud to call their home."
At the same time, he held out the prospect of a boost for cash-strapped government departments if he is able to release money kept back in case of a no-deal Brexit. The deficit is now projected to come in a huge 26.6 billion pounds ($35.1 billion) under his fiscal mandate, which requires structural borrowing is no more than 2 percent of GDP in 2020-21.
That buffer then could be reduced to pay for extra teachers, nurses and police officers.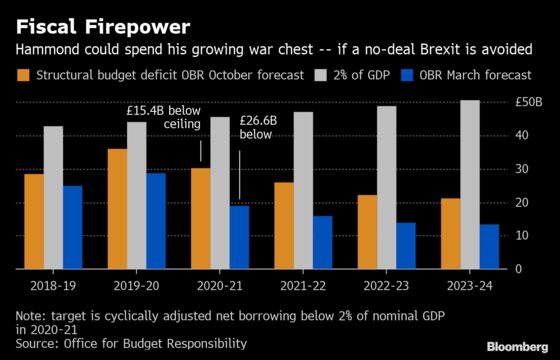 Hammond said leaving the EU with a transition period would unlock a "deal dividend", a recovery in business confidence and investment. He said he wasn't able yet to start the three-year spending review that's supposed to end austerity, but would do so later this year.
The chancellor unveiled new growth forecasts with the outlook for this year cut from 1.6 percent to 1.2 percent, the weakest since the financial crisis. There was an improved outlook for the public finances, though that's also dependent on the U.K. leaving the EU with a deal. A chaotic exit would throw his forecasts into disarray.
"The idea that there is some readily available fix to avoid the consequences of a no-deal Brexit is just wrong," he said.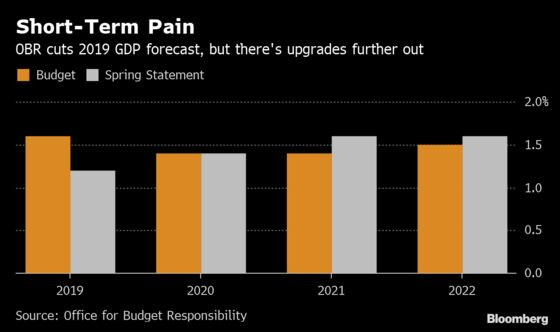 The budget deficit will be lower in the coming years than the Office for Budget Responsibility forecast in October, Hammond said. The growth prediction for 2020 was kept at 1.4 percent, and the OBR sees an acceleration the following year.
Parliament is expected to rule out a no-deal departure -- a scenario the premier herself accepts would "damage" the economy. That raises the prospect that Brexit will be delayed, bringing relief to businesses but extending the uncertainty hanging over the economy.
The problem facing Hammond is that the OBR forecasts were prepared on the assumption that Britain leaves the EU on March 29 in a smooth fashion.
Earlier today, the government unveiled plans for temporary tariffs if the U.K. crashes out without a deal. Britain will avoid imposing tariffs on most imported goods in the event of a no-deal Brexit, though officials said prices of key European Union products including beef, cheese and cars will rise.
The OBR forecasts follow recent downgrades by the Bank of England and the OECD. The latter published a huge cut this month, predicting expansion of just 0.8 percent. That would be the weakest performance since the 2009 recession.
The OBR revised down its 2018-19 borrowing forecast by almost 3 billion pounds to 22.8 billion pounds, the lowest for 17 years, and cut a further 27 billion pounds from its projections for the following five years. Driving the improvement are stronger-than-expected tax receipts and lower debt-interest costs.