U.K. Covid Infection Rate Rises as Johnson Weighs More Unlocking
(Bloomberg) -- Covid infections are rising across much of the U.K., piling pressure on Prime Minister Boris Johnson as he weighs whether to delay plans to unlock the economy later this month.
Cases of the virus in England rose to 1 in 640 in the week through May 29 from 1 in 1,120 a week earlier, according to data released on Friday by the Office for National Statistics. Its weekly Coronavirus infection survey also showed the rate more than tripling in Wales, a small rise in Northern Ireland, and a slight drop in Scotland following a significant rise the previous week.
| Infection rate for week ending | May 29 (June 4 survey) | May 22 (May 28 survey) | May 15 (May 21 survey) | May 8 (May 14 survey) |
| --- | --- | --- | --- | --- |
| England | 1 in 640 | 1 in 1,120 | 1 in 1,110 | 1 in 1,340 |
| Scotland | 1 in 680 | 1 in 630 | 1 in 1,960 | 1 in 1,250 |
| Wales | 1 in 1,050 | 1 in 3,850 | 1 in 4,340 | 1 in 4,230 |
| N. Ireland | 1 in 800 | 1 in 820 | 1 in 1,550 | 1 in 1,430 |
The new data are likely to deepen the dilemma facing Johnson, who's under pressure from members of his Conservative Party to push on with the final stage of unlocking the economy on June 21. The premier this week said he sees nothing in the numbers to make him deviate from the plan, but ministers continue to review the situation ahead of a final decision due on June 14.
"During that period we'll see where are we with hospitalizations, with deaths, where are we with the vaccine rollout -- we're doing everything we possibly can to expedite that -- and then at that point, we'll make our final decision," Cabinet minister Robert Jenrick told BBC radio on Friday.
While more than half of U.K. adults have now received two doses of the vaccine, health officials are concerned about the spread of the new Delta variant first identified in India, and are still assessing its strength against vaccines, as well as its impact on the spread and severity of illness.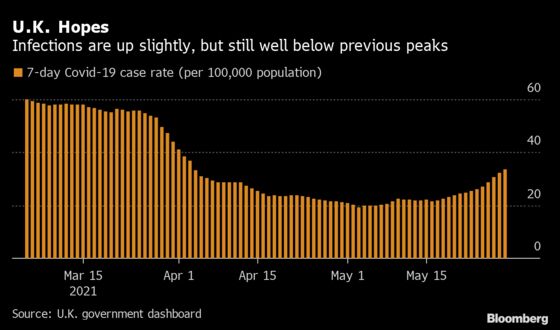 Plans for June 21 include allowing nightclubs to re-open after more than a year of enforced closure, removing limits on the number of attendees at life events such as weddings, and allowing larger events to take place.
There's also a wider review into social-distancing rules, which is being keenly watched by pubs and restaurants whose profitability is crimped by the current curbs. That review will also look at whether to lift a government recommendation for people to work from home if possible.
The June 21 date has become totemic among a faction of Tory MPs long opposed to lockdown measures, who argue it's time to take advantage of the U.K.'s advanced vaccination program and leave Britons to decide for themselves when it comes to virus risks.