U.K. Covid Data Looking Good for Lifting Curbs, Johnson Says
(Bloomberg) -- Prime Minister Boris Johnson said England is on course to be able to lift coronavirus restrictions as planned on July 19, despite the spread of the delta variant.
The premier's upbeat assessment will be welcome news for entertainment and hospitality bosses who have had to close or operate with severely restricted capacity due to social distancing rules this year.
Even if domestic limits on social gatherings are soon eased, foreign travel is likely to continue to be disrupted, with delays and complications for travelers, Johnson said.
Officials will be studying pandemic data and vaccination rates in the U.K. and overseas as they weigh up lifting restrictions and review the rules on overseas travel in the days and weeks ahead.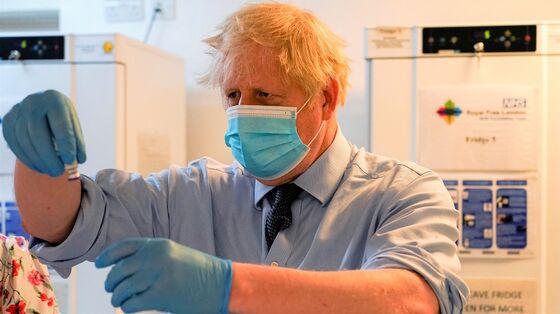 The fast-spreading delta variant first discovered in India has already forced the government to delay the fourth and final stage of its plan to ease pandemic rules in England, which was due to take effect on June 21.
Johnson pushed the date back by a month to July 19 to give medics more time to deliver second doses of vaccines.
Speaking to a television crew, Johnson said,"looking at where we are" and the effectiveness of vaccines against all the known variants, "I think it's looking good for July 19 to be that terminus point."
He said winter may be "rough" for many reasons, with more pressure on the hospitals, and it won't be possible to rule out the need for additional steps to protect the National Health Service if "some new disease, some new horror" emerges.
Johnson confirmed ministers will be looking at whether to ease the requirement for travelers to quarantine on return to England if they've been fully vaccinated.
"We will certainly be looking at that but I want to stress that this is going to be, whatever happens, a difficult year for travel," Johnson said. "There will be hassles, there will be delays, I'm afraid, because the priority has got to be keeping the country safe and to stop the virus coming back in."
Travel industry representatives are planning to step up their campaign for government to help, warning this week that 195,000 jobs are at risk from ongoing restrictions on foreign trips.
Business Secretary Kwasi Kwarteng played down the significance of data published in The Times on Monday, which showed only 1 in 200 incoming travelers from countries rated medium risk for coronavirus tested positive for the disease. The figures "don't tell the full picture," Kwarteng said.
"It's encouraging the data that we have seen from amber list countries, but at the moment we want to take an approach which is safer rather than sorry," Kwarteng told Sky News.