Rebel Tories Expect Compromise Amid Anger Over U.K. Virus Powers
(Bloomberg) -- Boris Johnson's officials are working on a compromise deal with rebels in his own Conservative party in an attempt to avoid a damaging defeat over the U.K. government's coronavirus strategy.
Amid growing anger at Johnson's response to the pandemic, a band of Tory members of Parliament have threatened to re-write legislation so ministers can't impose restrictions on the country without first putting them to lawmakers for approval.
If the rebels were to defeat Johnson in a vote on Wednesday, it would represent a damaging political setback on the most important issue facing his government. That would be a serious blow to the prime minister's authority just nine months after he won a large majority in last year's election.
Steve Baker, an influential Tory lawmaker and one of the most senior supporters of the rebel plan, said talks had been held with government officials Monday and he expects to reach a "satisfactory agreement" before it comes to a crunch vote in the House of Commons.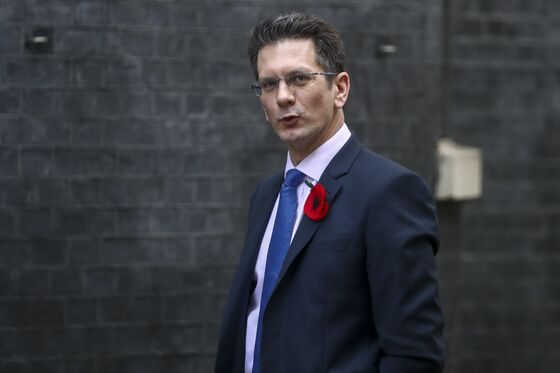 Baker tweeted that he and other MPs had attended a "cordial and constructive meeting" with Health Secretary Matt Hancock and Commons Leader Jacob Rees-Mogg. Fellow rebel Dehenna Davison said "all sides are working together to reach an agreement that works, allowing proper scrutiny alongside timely action."
The rebels estimate they have about 80 Conservative MPs ready to vote against the government, according to a person familiar with the matter. That would be twice the number needed to defeat Johnson in a vote in the House of Commons.
Faced with such a big revolt, ministers agreed to work on the details of a plan to meet the rebels' key demand for a vote on any coronavirus restrictions before they become law, the person said.
"We are looking at further ways to ensure that the House can be properly involved in the process, in advance, where possible," Hancock told MPs. "I hope to provide the House with further details soon."

Hancock spoke as a series of Conservative MPs turned on their own government and its handling of the pandemic.
Former cabinet minister Mark Harper was among those who called for MPs to have more of a say. He pointed to new laws that included a raft of penalties and criminal offenses "not mentioned" by the government before they were introduced and accused Hancock of ruling by "decree."
Nusrat Ghani, another former minister, said it was wrong that members of Parliament only knew about 10,000-pound ($12,850) fines for rule breakers when they read about them in the paper. "I am sent to the House of Commons to represent my constituents, and I cannot do that if parliamentary democracy is suspended," she said.
Johnson warned last week that restrictions would likely be in place for another six months and Hancock echoed this sentiment.
"The two realistic options we have are suppression until a vaccine comes, and letting it rip," the health secretary told Parliament. "And I know which of those I support."
But Conservative MPs questioned the government's approach, warning that local lockdowns and social distancing rules are making life miserable for many people and jeopardizing the fragile economic recovery.
Desmond Swayne said a presentation by the government's top scientists Chris Whitty and Patrick Vallance last week -- at which they warned of 50,000 cases a day by mid-October without urgent action -- was "Project Fear."
He spoke of the "cruelty" that means elderly people in care homes are unable to see their loved ones, the "tsunami of deaths from undiagnosed cancers and heart disease," and the "eye-watering cost that we must now all face for a generation having closed down our economy."
There was also criticism from Children's Commissioner Anne Longfield, who called on ministers to pay more attention to the needs of children when imposing restrictions.The first national lockdown "compounded existing inequalities" for vulnerable young people, she said in a report.
Children under the age of 12 should be exempt from the "rule of six," which limits the number of people at social gatherings, Longfield said. She also said ministers should draw up a "comprehensive recovery package" for young people.
The government announced further curbs on people in parts of northeast England from Wednesday and raised the prospect of tougher rules in London to try to get the resurgent pandemic under control.