U.K. Chancellor Pledges End to Austerity as Election Looms
U.K. Chancellor of the Exchequer Sajid Javid promised to end a decade of austerity as a snap election looms.
In his first set piece since becoming finance minister, Javid said no government department would see their day-to-day budgets cut next year and announced the fastest increase in spending in 15 years.
In a sign the government is prepared for an election, Javid was reprimanded twice by Speaker John Bercow for focusing too much on Brexit and the opposition Labour Party rather than on spending plans.
The spending round sets departmental budgets for the fiscal year 2020 to 2021. Javid said he'd deliver a 4.1% real increase in day-to-day spending, with more than 13 billion pounds added to total spending compared with plans set out in the spring. Since coming to power in July, Prime Minister Boris Johnson already committed billions of pounds for health, police and schools.
Javid said every government department would have their spending increased at least in line with inflation. After saying the government is "turning the page on austerity," the chancellor announced or reconfirmed pledges including:
A 6.2 billion-pound increase for the National Health Service
A 1.5. billion-pound increase for local government social care budgets
Schools budget to rise by 2.6 billion pounds in 2020-21
Increases for Home Office, Ministry of Justice, Crown Prosecution Service to help fight crime
An extra 160 million pounds for Scottish farmers
Additional 2 billion pounds pledged for delivering Brexit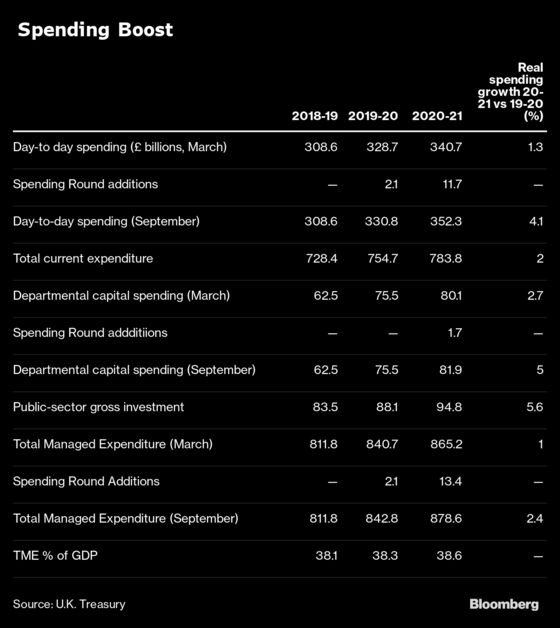 John McDonnell, who shadows Javid for Labour Party, said the statement was full of "meaningless platitudes" and described it as "grubby electioneering."
Economists meanwhile questioned whether austerity was really over, with the Institute for Fiscal Studies pointing out that real spending is still below 2010 levels for most departments after years of cuts to areas such as justice, the environment and the Home Office to help pay for above-inflation settlements for the NHS.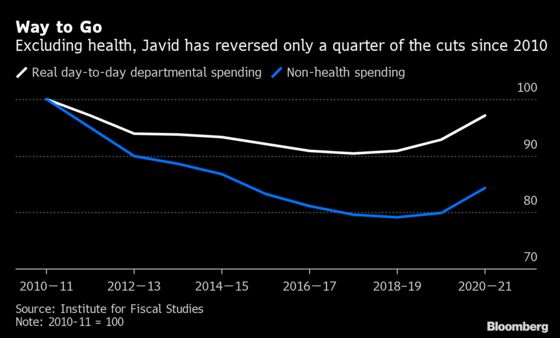 Bloomberg Economics said the new commitments, with their emphasis on day-to-day spending rather than capital investment, would do little to aid an economy hamstrung by Brexit, even if they are eventually accompanied by promised income-tax cuts.
What Bloomberg's Economists Say

"Departmental spending and tax cuts disproportionately focused on the wealthy are associated with small fiscal multipliers. Labour's plans place much more emphasis on investment spending, which packs a big punch. Assuming the money can be pushed out the door quickly enough, the Labour Party's fiscal package would probably provide more support to demand."

-- Jamie Rush, Economist
Click here for the full report
Javid also said looking into how the Treasury can coordinate fiscal policy with the independent Bank of England's monetary policy if the economy needs it.
And he's reviewing the government's fiscal framework to make sure it meets his economic priorities of boosting infrastructure. That review will take place before a Budget planned for later this year.
But he also stressed fiscal discipline will remain and that he would stick to the fiscal rules set by his predecessor Philip Hammond. "We will live within our means and growth will come from every corner," he said. He also said he'd set a high bar for funding new infrastructure projects.
The spending commitments come without new forecasts from the Office for Budget Responsibility, meaning Javid will have to wait until the Autumn Budget to discover whether he is on course to meet existing rules designed to keep the budget deficit and debt under control.
In March, the fiscal watchdog estimated the government had 15 billion pounds ($18 billion) of "headroom" to increase borrowing before reaching the maximum structural deficit permitted, set at 2% of gross domestic product in 2020-21.
The extra spending announced by Javid Wednesday uses up most of that margin, and had the OBR provided forecasts it might have judged that his room for maneuver had already shrunk significantly with the economy on the cusp of a recession and government spending rising more quickly than forecast in the spring.
Crashing out of the EU without a deal would push the deficit well above target, possibly forcing the government to turn off the spending taps again, economists warned.