U.K., EU Officials Push Back Against Brexit Bank Deal Report
(Bloomberg) -- British and European officials are playing down reports that a Brexit deal has been reached for banks that would provide access to the single market after the U.K. leaves the bloc. The pound pared gains.
The European Union's chief Brexit negotiator Michel Barnier said in a tweet on Thursday that the bloc was "ready" to have "close regulatory dialogue" with the U.K., but dismissed the reporting of a deal on banks' access to the single market: "Misleading press articles today on #Brexit & financial services."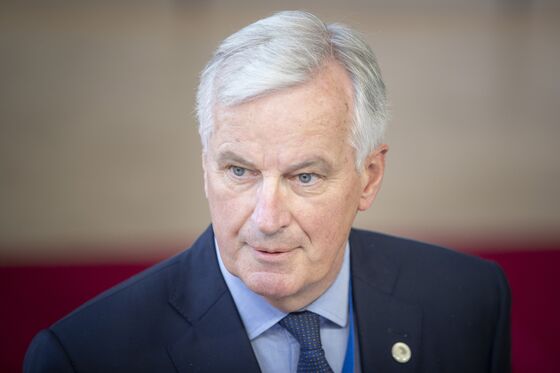 Three U.K. officials also described an article in the Times newspaper in London as unsubstantiated. One EU official also denied that any agreement had been reached that would allow guaranteed access to banks based in Britain.
Even if the deal that the Times has outlined emerges as the final answer, it would mark a downgrade in access to the European market for British-based financial services.
The Times said the new plan will be based on equivalence -- the tool that the EU already uses to allow non-EU companies to sell services in the bloc. That's what the EU has long offered the U.K., and the U.K. has long said it's not good enough. But the accord includes some new features that would make it more palatable, the Times said.
In any case, such a deal on the future trade terms isn't binding. That's because Brexit is being done in two parts. First the divorce deal -- the legally binding treaty that sets the terms of separation. A separate document -- a political declaration -- will set out both sides want to see in a future trade deal. That's where this financial-services agreement would go.
The U.K. government said in an emailed statement: "While we continue to make good progress agreeing new arrangements for financial services, negotiations are ongoing and nothing is agreed until everything is agreed."
Markets rose on the report, which built on optimism that the cliff-edge scenario feared by businesses and investors might be avoided. Shares in Britain's largest banks including Royal Bank of Scotland Group Plc, Lloyds Banking Group Plc and Barclays Plc all jumped in early morning trade in London. Barclays made the biggest jump, climbing as much as 3.4%. The pound rose more than 1 percent, before paring gains to stand 0.9 percent higher at 11 a.m. in London.
On Wednesday, it emerged that Brexit Secretary Dominic Raab had indicated he expects a deal to be completed by Nov. 21. EU officials also struck a more upbeat tone.
For Prime Minister Theresa May, an agreement on financial services could make the overall divorce deal easier to sell at home. Once she gets a deal, it has to go to Parliament, where she doesn't have a majority and faces opposition on all sides. The main hurdle to any deal still remains sorting out the Irish border.
The final legal status of U.K. banks in the bloc probably won't be clear for years. That's why banks have been active moving staff to the rest of Europe and setting up offices there. An outline agreement probably wouldn't be enough to make them change their plans. Most banks have prepared for the worst -- which means that by the time the final trade deal is signed, the City will have already lost business and jobs.
Still, according to the Times, the agreement would include features to make it better than existing equivalence arrangements:
If the EU decides the U.K.'s rules are no longer equivalent, it would give "significantly longer" than the 30 days set out in current deals
Neither side would unilaterally deny access without arbitration
Rules would have to remain "broadly aligned" with those of Europe
It remains to be seen what banks, and U.K. regulators would make of an agreement that leaves the U.K. all but bound to rules that it has no say in making.
But Barnier's intervention cast further doubt on the deal as outlined in the Times report. "EU may grant and withdraw equivalence in some financial services autonomously," he wrote on Twitter. "As with other 3rd countries, EU ready to have close regulatory dialogue with UK in full respect for autonomy of both parties."
The reported emphasis on a broad alignment of regulation -- a focus on results, rather than a line-by-line comparison of U.K. and EU rules -- could potentially give British regulators some leeway to tailor financial-services regulation as they see fit after Brexit. That would help assuage concerns long voiced by the Bank of England and the Financial Conduct Authority about having their hands tied by laws made in Brussels over which the U.K. will have little influence after Brexit.
The Times says that the agreement would allow the EU and the U.K. to change or set new financial regulations, but each will have to consult the other beforehand. In practice, it might not look so mutual.
By agreeing to an arbitration process before rescinding an equivalence decision for the U.K., the EU would also be setting a precedent that other countries -- such as the U.S. -- might subsequently insist on for themselves.