The U.K. and EU Have Agreed on a Brexit Text. Now May's Cabinet Puts It to the Test
(Bloomberg) -- The U.K. and the European Union have agreed on a draft divorce deal. Now Prime Minister Theresa May puts it to her Cabinet, who have to decide whether to back it or resign.
Negotiators have settled on a text after working through the night this week in Brussels, according to three people familiar with the situation. May's ministers have started filing into her office to read it and are due to meet Wednesday at 2 p.m. to sign off.
EU officials cautioned that the deal isn't done until it gets political sign-off in London.
While the pound rose on this breakthrough -- talks had been at impasse for months -- there are more obstacles ahead. Cabinet is the first hurdle, but her hardest task will be to force it through the House of Commons, where the arithmetic is looking increasingly challenging. Her critics in Parliament -- whose votes she will need -- were quick to criticize the deal on Tuesday.
May's Cabinet has been long divided on what Brexit should mean. Many have reservations that she's given away too much and that the U.K. won't be able to escape the EU's orbit for years, in a betrayal of the referendum in 2016.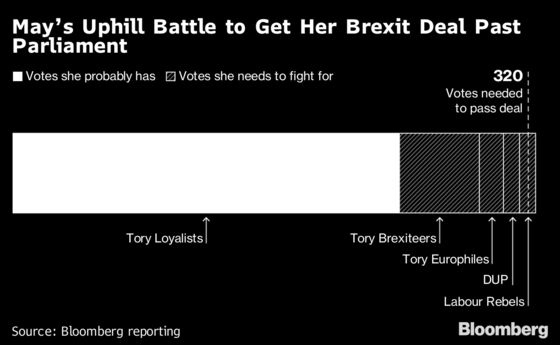 She's survived the loss of some of key figures in her Cabinet -- former Brexit Secretary David Davis and Foreign Secretary Boris Johnson. If more high profile figures quit, her life becomes complicated again. Even if they don't, getting it through Parliament remains a struggle.
Representatives of EU governments are expecting to be briefed on Wednesday on the deal -- which includes the draft separation agreement and also an outline of what the future relationship should be. That part isn't binding and is expected to include more warm words than detailed decisions. They will meet at the same time as the Cabinet.
If all goes well, and it still might not, then a summit could be called toward the end of November -- officials said Nov. 25 was a likely date.
The thorniest issue that's been dogging talks for months is how to avoid a hard border emerging on the island of Ireland after Brexit. The details of the agreement haven't yet been released, but ministers will pore over the small print before deciding if they can support it.
The risk is that the guarantees May has offered will end up binding the whole U.K. into EU rules and trade regulations indefinitely. Brexit cheerleaders reject that because they want to break free. But pro-EU politicians have also expressed concern about it, including Jo Johnson, a minister who resigned last week.
Her critics say that the fix for the Irish border comes at a high price for the rest of the U.K. -- which will be left in a customs union with the EU if a better idea hasn't emerged by the end of 2020. Still, she will be able to argue that she's won a concession from the EU -- she's managed to convince the other side to accept her fix for the border instead of their own. The only problem is that it comes with conditions that are hard to swallow.
Even before the details were known, politicians in London were voicing their opposition to what they think the deal will say. The Northern Irish party that props up May's government said it probably couldn't vote for the deal. Pro-Brexit lawmakers said the same.
But in some good news for May, Iain Duncan Smith, an influential Brexiteer, reckoned that Cabinet ministers would back her, if only out of spinelessness.
He told reporters: As Margaret Thatcher "once said to a friend of mine, but it may apply to the Cabinet: 'Your spine does not yet meet your brain.'"
Julian Smith, May's chief whip, also sounded upbeat: "I am confident we will get this through Parliament." The government is betting that the reality of having a deal in hand -- and the prospect that rejecting it would bring chaos -- will convince Tories to fall in line. The math doesn't support their optimism.