U.K. 'Almost Certain' to End Up With Hard Brexit, Mandelson Says
(Bloomberg) -- Veteran Labour politician Peter Mandelson expects the U.K. to end up with only loose ties to the European Union after leaving the bloc.
"It's almost certain that we're going to end up with some form of hard Brexit," Mandelson, who served in the governments of former Prime Ministers Tony Blair and Gordon Brown, told Bloomberg Television at the New Economy Forum in Singapore.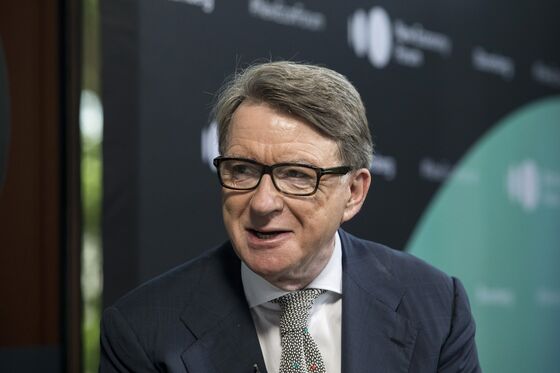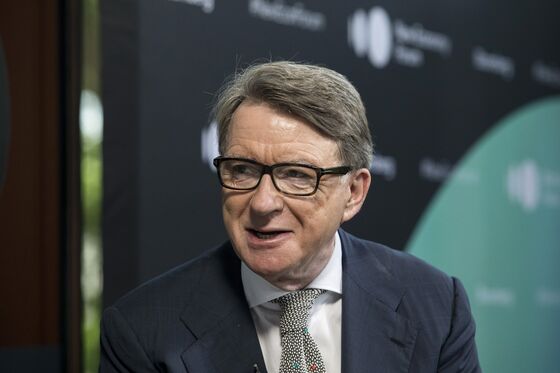 "Hard Brexit" is often used to mean a divorce that would leave Britain with much looser ties with the bloc than it has now, particularly on trade and regulations. It's also sometimes used to describe the scenario of Britain leaving without any divorce deal to order the departure.
Mandelson said infighting over one part of the Brexit deal stands in the way of an accord. While he didn't elaborate, he appeared to be referring to the intractable conundrum over how a Brexit agreement would avoid closing the free border between the U.K. and the Republic of Ireland.
"This is crazy stuff, it's crazy," said Mandelson, a former European trade commissioner who currently serves in the House of Lords. "We have a government in Britain that's still arguing amongst themselves, with each other, about one aspect, of one particular issue to do with Brexit, because that goes to the heart of their titanic struggle about how fast we're going to leave, how great a clean break is going to be our departure, et cetera."
The U.K. is due to leave the EU in less than five months, with or without a deal. Both sides have said that there would be no withdrawal agreement, unless a legally operational backstop guarantee could be found to ensure no customs checks at the Irish border. If there was no exit deal, a 21-month transition phase that businesses want would also fall away.
"The biggest casualty, if this goes on, is going to be Britain," Mandelson said. "It is not going to do the rest of the world any favors either."
The New Economy Forum is being organized by Bloomberg Media Group, a division of Bloomberg LP, the parent company of Bloomberg News.