Two Years On, Pound Still Stuck in Brexit Bog as More Talks Loom
(Bloomberg) -- A boost from the Bank of England, spoilt in no time by Brexit gloom -- this has been a recurring pattern for the pound of late. This week may be no exception.
While a hawkish surprise out of Thursday's BOE meeting -- namely, Chief Economist Andy Haldane's shift of stance in favor of raising interest rates -- gave the beleaguered currency some reprieve, the focus now pivots firmly back to politics. U.K. Prime Minister Theresa May is scheduled to meet her peers in Brussels at the June 28-29 European Union summit. Two years since Britain voted to leave the EU, talks remain far from concrete resolutions.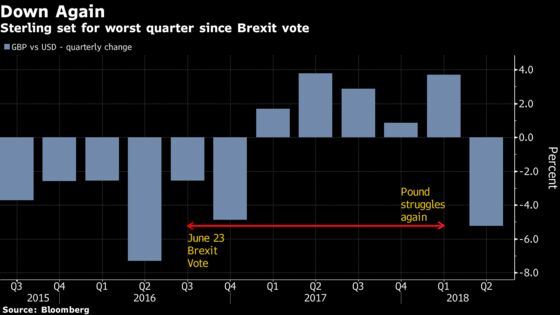 The British currency is on track for the worst quarter against the dollar since June 2016, the month of the referendum, amid domestic political turbulence and as Brexit prospects remain uncertain. Airbus SE has threatened to pull its U.K. investments on a no-deal scenario, saying it's become "increasingly frustrated" at the lack of clarity, while the EU is already making contingency plans in the event both sides fail to strike an accord in time.
"The BOE gave sterling some support but that will probably peter out the closer we get to the summit," said Georgette Boele, currency strategist at ABN Amro Bank NV. "It is a lot of back and forth in U.K. politics and that complicates negotiations with the EU," she said, predicting sterling to end the third quarter at $1.30, from the current level of around $1.33.
Sterling jumped more than 0.7 percent over Thursday and Friday after the surprise move by BOE's Haldane to support the case for higher rates boosted bets for an August hike. It is still down by 5.3 percent versus the dollar this quarter.
Yields on 10-year gilts climbed to a one-week high Thursday after the BOE announcement, as the market-implied probability of an August hike climbed to 68 percent from 49 percent before the central bank's statement. Still, some rates analysts remain cautious on whether the BOE will indeed pull the trigger in two months time given the recent patchy trend in U.K. economic data.
While the BOE's hawkish slant "puts at risk our view that rates will stay unchanged in August, we're sticking with it," wrote Daniela Russell, the head of U.K. rates strategy at HSBC Holdings Plc. "But, more importantly, it hasn't altered the big picture: the risks to the BOE's economic forecasts remain firmly skewed to the downside, which will limit the extent of any tightening."
Russell said HSBC strategists are "comfortable running a bullish position in the five-year sector" and would use any sell-off as an opportunity to add to long positions in the front end.