Two Witnesses Back Account Rosenstein Considered Taping Trump
(Bloomberg) -- The explosive assertion that Deputy Attorney General Rod Rosenstein considered secretly recording President Donald Trump has been backed up in private testimony to Congress by two FBI lawyers.
Both officials also told lawmakers that there was simultaneous talk in the spring of 2017, just months after Trump's inauguration, that two unidentified Cabinet officials were on board with the idea of invoking the 25th Amendment to remove Trump as president.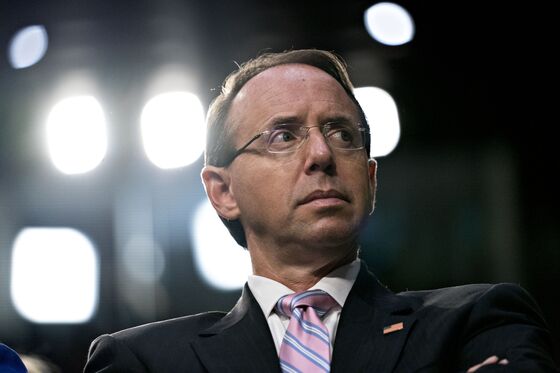 Sally Moyer, who worked in the FBI's Office of General Counsel, wasn't in the room when Rosenstein allegedly raised the idea of wearing a wire in order to secretly record interactions with Trump. But she testified behind closed doors in October 2018 of being told that the conversation had taken place during a high-level Justice Department meeting in the days after Trump fired FBI Director James Comey on May 9, 2017.
Rosenstein, who plans to leave his DOJ post soon, has denied that he ever "pursued or authorized recording the president," and Justice Department officials have presented the episode as a passing, sarcastic reference. Yet former FBI Deputy Director Andrew McCabe, who was also fired, said in an interview to be broadcast on CBS's "60 Minutes" on Sunday that Rosenstein repeated the idea more than once, and that the suggestion was taken so seriously that it was brought to lawyers at the FBI.
A review of the unreleased transcript of Moyer's closed-door testimony to members of two House committees from Oct. 23, 2018, buttresses McCabe's version.
So, too, does the testimony of former FBI General Counsel James Baker, who discussed with the Oversight and Judiciary committees during two days of closed-door questioning -- on Oct. 3 and 18, 2018 -- what he'd been told contemporaneously of Rosenstein's suggestions about taping Trump.
The two committees, then led by Republicans, were jointly looking into Justice Department and FBI investigative decisions related to the 2016 presidential race. Baker left the FBI in May 2018.
Moyer told lawmakers that the details about Rosenstein talking about taping Trump were recounted to her by another FBI lawyer, Lisa Page, while transcripts show Baker testified that both Page and McCabe told him about it.
"It was more of a 'Can you believe the world we are living in now?'" Moyer told members of the committees on Oct. 23. Moyer said Page later told her that she believed the Justice Department was dishonest in letting Rosenstein characterize it as a joke.
Page, who couldn't be reached for comment, became known publicly after disclosure of strongly anti-Trump text messages that she exchanged with FBI agent Peter Strzok during the 2016 presidential campaign. Since then Trump has tweeted repeatedly about Page and her "lover," Strzok.
Baker testified that both Page and McCabe, shortly after a meeting, told him what Rosenstein had said about recording the president. "I took it seriously, because my assessment was they took it seriously," he said.
"This was not a joking sort of time. This was pretty dark," he told lawmakers.
In the "60 Minutes" interview, McCabe, who's promoting a new book -- "The Threat: How the FBI Protects America in the Age of Terror and Trump," to be published on Tuesday -- also said he was present when Rosenstein commented about invoking the U.S. Constitution's 25th Amendment, which allows for the vice president and "the principal officers of the executive departments or of such other body as Congress may by law provide" to remove a president who's "unable to discharge the powers and duties of his office."
But a spokesman for McCabe said Friday that he wasn't asserting that Rosenstein had engaged in any extended discussion of invoking the amendment.
In his testimony, Baker said he understood there was concern over whether Trump's firing of Comey was part of an effort to obstruct the FBI's investigation into Russian election interference and possible collusion by Russia with the Trump campaign. "That is what I understood from the context," he said. Baker described a "stressful" and "tumultuous" environment at the bureau in the immediate aftermath of Comey's dismissal.
Baker also explained that at that point, Rosenstein personally "was having a hard time with the blowback, I guess you would say, from the firing and the extent" that "his recommendation to the president had been used to justify the firing."
When Trump fired Comey, the president produced a letter that Rosenstein had written condemning the FBI director for making public comments about the bureau's investigation into Democrat Hillary Clinton's use of private email when she was secretary of state.
"I understood that he thought he had been used or misused with respect to the firing and that he was quite alarmed by the whole situation," Baker testified.
Baker also recalled being told that Rosenstein mentioned potential use of the 25th Amendment. He said he understood that Rosenstein "had already discussed this with two members in the president's Cabinet" and they "were willing to go down this road already."
"What I recall being said is that the deputy attorney general has two members of the Cabinet," Baker said in his testimony.
Pressed if that meant Rosenstein had himself taken the initiative in getting Cabinet members behind the idea, Baker said, "That would be speculation on my part." He said he had the impression that neither McCabe nor Page knew if that were the case, either. Baker said he didn't know which two Cabinet members Rosenstein was talking about.
Moyer told the congressional committees that she had also heard talk about the 25th Amendment but took it merely as gossip.
In the end, according to Baker, there was never any real legal analysis or research into wearing a wire into the Oval Office. "My belief is that it was just not something that made any sense to do, it was too risky, it just would not pay the benefits," he said.
On Friday, Representative Doug Collins of Georgia, the top Republican on the House Judiciary Committee, wrote a letter to the panel's Democratic chairman, Jerrold Nadler of New York, asking that the committee bring both McCabe and Rosenstein in for questioning.
"When the deputy attorney general proposes recording the president and contemplates using the government's powerful surveillance authorities against President Trump -- or any president, for that matter -- they place legitimate national security authorities at risk of elimination or gross abuse," Collins wrote to Nadler, who became the committee's chairman in January, after Democrats retook the House majority. "These questions and statements by McCabe must be investigated by Congress."