Tusk Urges Opposition to Unite to Save Poland's Ailing Democracy
(Bloomberg) -- Poland's opposition must unite to win the next election and restore democratic values in a country slipping toward "soft authoritarianism," former Premier Donald Tusk said in an interview.
Tusk, who served as prime minister between 2007 and 2014 and went on to become Poland's highest-ranking official ever in the European Union, said the fragmented opposition, including the Civic Platform group he co-founded, is divided by personal ambitions and lacks a shared vision of how to win back power.
Opinion polls show the ruling Law & Justice party still holds a lead but is slowly losing ground over its handling of the Covid-19 pandemic. Reports of corruption and policies that led to an almost complete ban on abortions are also hurting its support. The Civic Platform, however, hasn't rebounded, and a new centrist group, Poland 2050, is gradually winning over moderate voters.
"I'll do everything to convince the widely defined opposition and the public that this is the moment to acknowledge that we share key priorities -- the rule of law and democracy," Tusk told Bloomberg on Monday. "If we don't save democracy from Law & Justice, we won't be able to hold a democratic debate on other issues, such as abortion."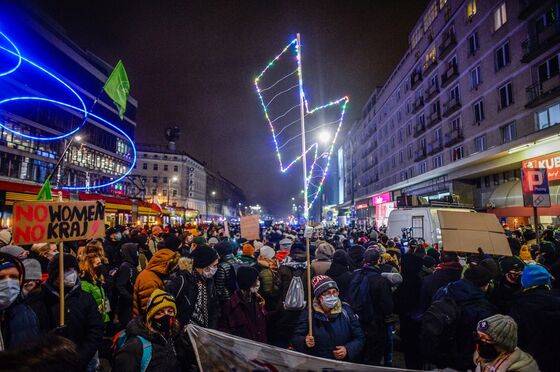 The Law & Justice government, which introduced unprecedented social spending and tightened control over state media, has repeatedly clashed with its EU partners over democratic values, and has become the focus of the bloc's first-ever probe into a member state's adherence to the rule of law.
Support for Law & Justice slipped to 31.1% in January from 43.6% in 2019 elections, a survey by IBRiS showed on Tuesday. The Civic Platform had 19.2%, down from 27.4% in the last ballot. Poland 2050, led by former presidential candidate and television personality Szymon Holownia, hit a new high at 16.9%.
The two main opposition groups, along with the Left Alliance and the agrarian Peasants party, have more than 50% backing combined, the survey showed. Still, so far there has been little appetite for the creation of what would be a left-to-center-right coalition that could unseat Law & Justice in the next parliamentary ballot, scheduled for 2023.
Meanwhile, Tusk -- an ally of Chancellor Angela Merkel and the head of the European People's Party, the biggest group in the EU parliament -- has been branded a traitor by public television, a mouthpiece for Law & Justice which is run by a former party official.
When Tusk addressed a convention of German Christian Democrats last month, the broadcaster said the Polish politician was praising the Germans, while showing footage of Nazi troops invading Poland in 1939 to start World War II.
"I'm certainly considered a public enemy, but maybe this will allow me to play an active, positive role in uniting the pro-democratic side," Tusk said. "It's not very difficult to understand that pursuing different political agendas will be possible only when democratic order is restored."