Tusk Slams 'Insulting' U.K. Remarks Comparing EU to Soviet Union
(Bloomberg) -- European Union President Donald Tusk rebuked U.K. Foreign Secretary Jeremy Hunt for likening the EU to the Soviet Union, saying the comments were unacceptable and damaging to the Brexit negotiations.
"Comparing the European Union to the Soviet Union is as unwise as it is insulting," Tusk told reporters in Brussels on Thursday. As "someone who spent half of my life in the Soviet bloc, I know what I am talking about."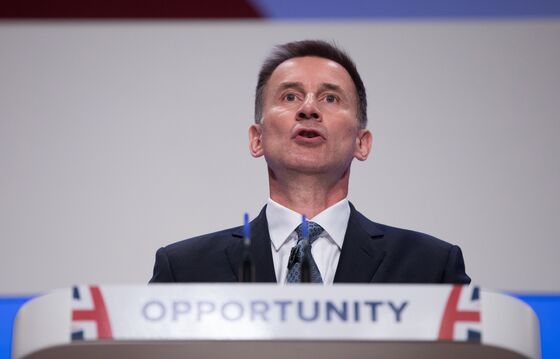 At the Conservative Party conference on Sunday, Hunt said the EU was acting like the USSR in the way it was making it difficult for the U.K. to leave.
Tusk, a veteran of the struggle against Communist rule in Gdansk, northern Poland, and a former Polish prime minister, is considered one of the U.K.'s biggest allies in the Brexit debate, fighting against some of the bloc's more hard-line positions. He has frequently said how much he regrets the U.K.'s departure and hopes the country will change its mind.
Tusk said the U.K. should see the EU as a partner against Soviet-style thinking, typified by its solidarity with the British government over a chemical-weapons attack in the English city of Salisbury in March that the U.K. blamed on Russia.
Tusk said he understood the need for political theater at a party conference but said it was now time to get down to business.
"Unacceptable remarks that raise the temperature will achieve nothing except wasting more time," Tusk said. "Now the Tory party conference is over, we should get down to business."