Tusk, Duda Join Mourners at Funeral of Gdansk's Murdered Mayor
(Bloomberg) -- European Union President Donald Tusk joined mourners in paying tribute to assassinated Gdansk Mayor Pawel Adamowicz, whose murder has shaken a country marred by political divisions in an election year.
Thousands of citizens -- some of whom traveled long distances -- along with Polish President Andrzej Duda, Prime Minister Mateusz Morawiecki, former presidents, prime ministers and other members of the country's elite participated in the solemn mass at St. Mary's Basilica in Gdansk.
Adamowicz, mayor of the coastal city for more than two decades, was stabbed at a charity event on Jan. 13 and died the following day.
The assailant, recently released from prison and with a record of psychiatric treatment, told the crowd after the attack he was avenging his treatment by the former government led by Civic Platform, the party now in opposition that Adamowicz had co-founded.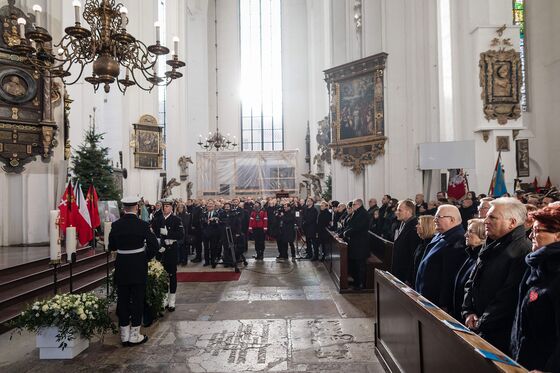 The first assassination of a high-ranking Polish politician while in office since the collapse of communism in 1989 poses a dilemma for the Law & Justice government in an election year. The party is struggling to reconcile the killing with the narrative that it's transformed Poland into a "normal" country after three years of vowing to drive out "self-serving elites" in the political opposition, stand up to the EU and grab more control over the economy.
The rise of Law & Justice, which has shifted Poland from being a model of post-communist success to one of the EU's biggest challenges, has also helped empower radical groups with racist and anti-Semitic beliefs. Critics of the ruling party said a failure to keep far-right groups accountable for hate crimes, along with aggressive propaganda in state media, had created an atmosphere that may have helped precipitate the tragedy.
Eulogies by Adamowicz's wife, his brother and close friends included calls for restraint in the language of hatred and scorn used in Polish politics.
The party's "initial strategy to display respect and compassion has been dropped in favour of a more confrontational approach as displayed in coverage of state television," Olgierd Annusewicz, a political scientist at Warsaw University, said by phone. "If this continues it may hurt Law & Justice, as this style discourages the key part of electorate in the center of the spectrum."