Turkish Lira Swats Away Jumbo Rate Cut to Live Another Day
(Bloomberg) -- It almost feels as if Turkey's lira can survive anything.
Since the end of June, the currency endured three bigger-than-expected interest-rate cuts, the ouster of the country's former central bank governor by President Recep Tayyip Erdogan, and a military incursion into northern Syria that ran the danger of provoking American sanctions.
But the lira has come through it all more or less unscathed, eking out a 0.3% advance over the second half of the year. That's pretty much in line with emerging-market currencies as a whole.
While it slipped 0.7% to just over 5.77 per dollar on Thursday, it was still close to its strongest level in more than two weeks despite another 250 basis-point interest-rate cut. That reduction took the total since July to 10 percentage points.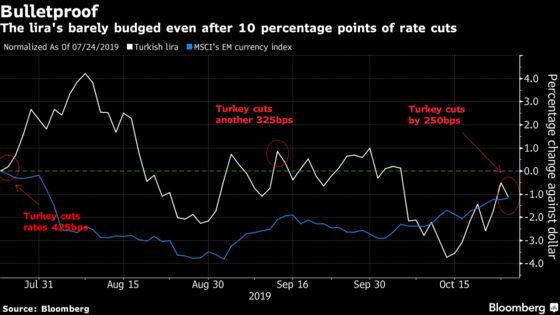 Erdogan can take credit for some of the currency's resilience. He managed to persuade the White House to back down from imposing new sanctions on Syria and scrap ones that were already in place, removing a key drag on the currency.
But other fundamental factors have been instrumental in supporting the lira. The sharp slowdown in Turkish inflation and global investors' hunger for higher-yielding assets have boosted the currency's real return and helped it stand out amid the turmoil.
That's why the central bank's future actions will be key. Thursday's cut brings Turkey's interest rate adjusted for inflation to 4.7%, still high relative to other emerging markets. But if it's reduced much more -- either because of further easing by the central bank or a pickup in inflation -- the lira's resilience might finally start to wane.