Turkey Eases Currency Trading Limits Again, Boosting Lira
(Bloomberg) -- Turkey made it easier for foreign investors to access lira funding, a move that's aimed at undoing some of the restrictions imposed over the last two years. The lira rallied.
The banking regulator increased the amount of currency swaps and derivative deals that local lenders can carry out with foreign counterparts, according to a statement on Wednesday.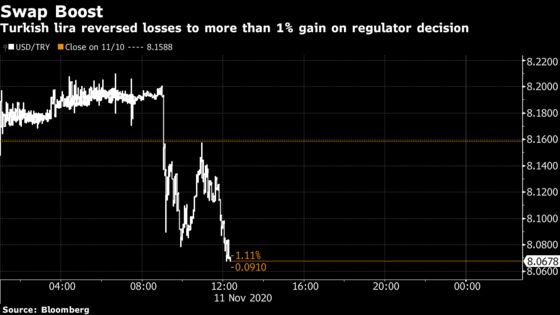 The move came after President Recep Tayyip Erdogan sacked central bank Governor Murat Uysal on Saturday, triggering the resignation of Treasury and Finance Minister Berat Albayrak, the architect of policies to limit overseas investors' involvement in Turkey's money markets.
A key objective of Wednesday's changes is to allow foreign investors to hold more liras through dollar swaps after their ability to do so had been limited, a person familiar with the matter said, asking not to be identified while discussing official deliberations. The currency's rally since the weekend's events was mostly driven by foreigners selling dollars in the spot market, according to traders.
The lira reversed losses on the news and was trading 0.9% higher at 8.0837 at 1 p.m. in Istanbul.
Some see the changes paving the way for an outright interest-rate hike at the Nov. 19 central bank meeting, a key test for investors who are looking for signs of a return to orthodoxy.
"The reason why the market is reacting well is that market participants factor in higher chances of a hike at next week's meeting," said Gabriele Foa, a London-based money manager at Algebris U.K. Ltd. "It's a step in the right direction, but doesn't substitute for a proper hike."
The regulator said the decision is another move toward "normalization" of the market. Since September, policy makers have been gradually unwinding those caps.
With the latest easing, the amount of liras banks can sell to foreign institutions rose to 5% of their equity from 2% for transactions that will mature in seven days. The cap was lifted to 10% from 5% for those maturing in a month and to 30% from 20% for those maturing in a year.
The limits were first introduced after a currency crisis in 2018 and were designed to stand in the way of investors betting against the lira. But they've resulted in periodic liquidity crunches that drove overnight borrowing costs as high as 1,000%, and forced overseas investors to dump their bond and equity holdings.
Faced with an unpredictable trading environment, non-resident investors have pulled more than $13 billion out of the bond and stock markets this year. Turkish investors also boosted their dollar and gold holdings, adding to the lira's woes.
A U-turn by investors will require patience by policy makers as they tighten policy and increase Turkey's foreign reserves, according to Kieran Curtis, the London-based director of investment at Aberdeen Asset Management Plc. The nation's gross foreign holdings dropped 21% this year to $84.4 billion.
"The key issue for the incoming economic team is the need to build reserves," Curtis said. "Monetary policy will need to be set tight enough for the central bank to be buying dollars regularly without weakening the lira."