Erdogan Clinches Key Goal of Making Hagia Sophia a Mosque
Turkish President Recep Tayyip Erdogan achieved his long-cherished goal of converting the iconic Hagia Sophia into a mosque, ignoring international calls to keep it as a museum and defiantly stamping his Islamist-rooted politics on the Istanbul skyline.
Hundreds of Islamist supporters chanted "God is Great!" as Turkey's top administrative court on Friday revoked the museum status of Hagia Sophia, originally a 6th-century Byzantine cathedral, effectively turning it into a place of Muslim worship.
Within two hours, Erdogan issued a decree handing the site over to the religious affairs directorate. Soon after, calls to prayer blared from the loudspeakers fixed to the minarets of what was and remains also a Christian landmark.
Erdogan said he will open the to worship for Muslims with Friday prayers on July 24.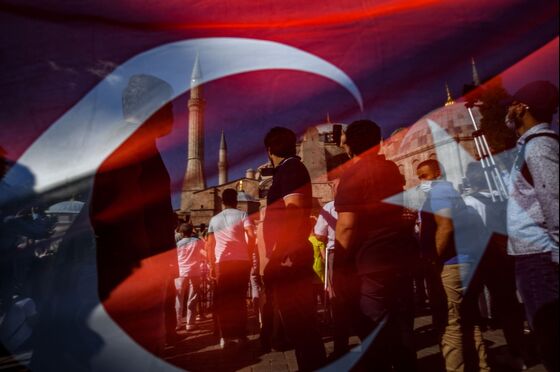 While the move fits with the thrust of Erdogan's politics since he rose to power nearly two decades ago, it has a special significance now. The response drew the swift condemnation from Greece, an old foe, and close neighbor.
"It's a choice that also offends all those who recognize the monument as a property of world culture," said Greek Prime Minister Kyriakos Mitsotakis. "It affects not only Turkey's relations with Greece, but also its relations with the European Union, Unesco and the global community as a whole."
The president is seeking to consolidate his support among Turkey's nationalist voters, who are being wooed by newly formed rival parties.
He's doing that in part by playing to Turkey's growing footprint as an assertive Muslim power, after intervening in Syria, transforming Libya's war and joining the race for energy assets in the Mediterranean.
"After a 86-year break, Hagia Sophia will resume serving as a mosque like it was under the foundation of Sultan Mehmet II," Erdogan said in an address to the nation on Friday, adding that with the end of its status as a museum, entry fee will be waived for everyone. "All should respect the court decision and not question our sovereign right over the use of Hagia Sophia."
Yet, the move points to some of Erdogan's weaknesses.
His ruling AK Party lost control of Istanbul and the capital, Ankara, in landmark municipal elections last year. Since then, the economic successes at the root of Erdogan's long rule have been damaged, most recently by the coronavirus pandemic.
"Even if the Hagia Sophia conversion increases his approval rating by a few percentage points, the boost is unlikely to last," said Soner Cagaptay, director of the Turkish Research Program at the Washington Institute for Near East Policy.
He added: "Nothing short of strong economic growth will bring back the wider popularity he once enjoyed. Turkey's international brand as an open, Muslim-majority society at peace with its Christian heritage" will be undermined.
Erdogan rebuffed opposition from Washington and neighboring Greece, which had urged Turkey to maintain Hagia Sophia's museum status.
The site -- included on UNESCO's World Heritage List -- carries a special significance for Greeks, who see it as one of the most important Christian monuments and a legacy of an Orthodox tradition dating back to the Byzantine empire.
In a statement on Friday, UNESCO called on "the Turkish authorities to engage in dialogue before taking any decision that might impact the universal value of the site." The Turkish government said that Hagia Sophia will continue to accept visitors from around the world, as does Istanbul's famed Blue Mosque.
Hagia Sophia served as a mosque for about 500 years after the Ottoman conquest of Istanbul in 1453 by Mehmet the Conqueror.
Then a 1934 cabinet decree signed by Mustafa Kemal Ataturk, the founder of the modern and secular republic, turned the building into a museum. Erdogan is due to address the nation at 8:53 p.m. -- or 20:53 -- an apparent reference to the 600th anniversary of the conquest.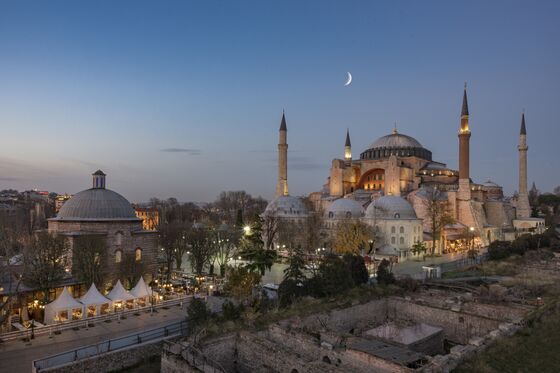 For generations "Hagia Sophia has always been a building which should be opened as a mosque," said Mustafa Sentop, parliament's speaker and a member of the AK Party. "It was a target, a fantasy, a dream."
A devout Muslim, Erdogan, 66, spent four months in jail in 1999 for "inciting religious hatred" after reading out a poem at a political rally that said "the mosques are our barracks, the domes our helmets, the minarets our bayonets and the faithful our soldiers."
Before the court decision, Treasury and Finance Minister Berat Albayrak cited Islamist-nationalist poet Necip Fazil Kisakurek on his Twitter account.
"Hagia Sophia will be opened today or tomorrow!" Moments after the announcement of the verdict, Erdogan's spokesman Ibrahim Kalin tweeted a picture of Hagia Sophia, in all its glory.