Turkey Slams Pompeo for `Don't Slaughter the Kurds' Remarks
(Bloomberg) -- Turkey issued a written statement to denounce U.S. Secretary of State Mike Pompeo for saying the U.S. wanted to ensure that "the Turks don't slaughter the Kurds" as it withdraws forces from Syria.
Turkey condemned the comments for both their tone and content, its Foreign Ministry spokesman Hami Aksoy said in a statement on Friday. Turkey also criticized Pompeo for using the general term "Kurds" to refer specifically to the YPG, a U.S.-backed Kurdish militia that Turkey considers a terrorist organization.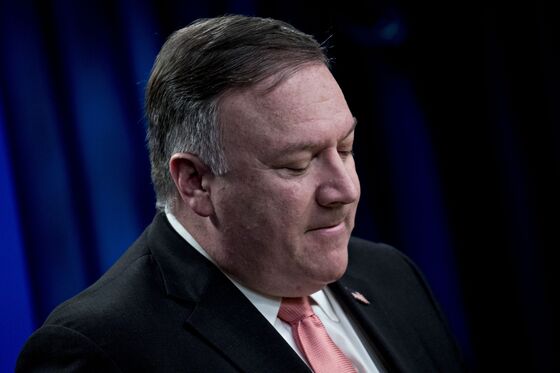 The statements highlight lingering tensions between Turkey and the U.S., which have the two largest armies in NATO, over the YPG militia the U.S. armed and supported in Syria as part of its strategy to combat Islamic State. President Donald Trump's abrupt decision to withdraw from Syria last month left the YPG scrambling for cover from the Syrian government and Russia, as Turkey massed forces on the border in preparation for an invasion.
Trump later downplayed the contribution made by Kurds in the battle against Islamic State, saying they're "better fighters when they have U.S. fighters jets helping them," and accusing them of selling oil to Iran. His decision to withdraw from Syria, apparently made during a phone call with Turkish President Recep Tayyip Erdogan, prompted the resignation of U.S. Secretary of Defense Jim Mattis in protest. Brett McGurk, the chief U.S. envoy for the coalition against Islamic State, also resigned.
"Turkey will decisively continue its struggle against terrorist organizations" including the YPG, the Turkish statement on Friday said. It said Turkey is hosting hundreds of thousands of Syrian Kurds who've fled the YPG and are still unable to return home due to the group's abuse of local populations.
Pompeo's comments came in an interview with Newsmax in which he declined to give a timetable for the U.S. withdrawal.
"Not only the withdrawal, but all of the other elements that the president laid out: the importance of ensuring that the Turks don't slaughter the Kurds, the protection of religious minorities there in Syria, all of those things are still part of the American mission set," he said. "We still have lots of things to work on with the Turks."
Trump's National Security Adviser John Bolton is due to visit Israel and Turkey in the coming days. Pompeo will be traveling to the Middle East next week. Turkey is not on his itinerary.