Turkey's Weird U.S.-Pastor Case Is Far From Over
The U.S. and Turkish presidents managed to shake hands backstage at the United Nations yesterday, but not to resolve their standoff over American pastor Andrew Brunson.
Donald Trump's demands for the evangelical preacher's release — he's on trial in Turkey for his alleged role in a terrorist conspiracy — have resulted in U.S. sanctions against a NATO ally and the battering of Turkey's economy.
Even if Brunson is freed soon, as U.S. diplomats expect, that won't fix a relationship that's been souring for years as President Recep Tayyip Erdogan turns against the West. Turkish Mormons also fear there could soon be new religious prosecutions against them. 
The alleged conspiracy includes everyone from Kurdish terrorists to CIA agents. The evidence tends to the bizarre: secret handshakes, missing fingers and a list of gas stations supposedly proving Brunson was planning for the military occupation of Turkey.
And yet, Brunson's alleged Mormon co-conspirator says he never knew of his existence. The sole evidence that they met consists of phone tower records showing they were in the same neighborhood. What that proves isn't clear, though. Both men lived there.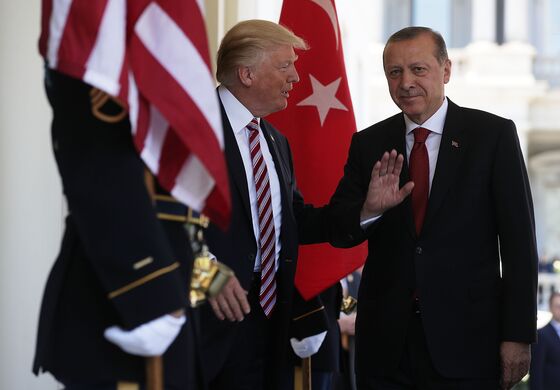 UN chuckles | Trump's campaign-style speech at the UN yesterday reasserting his "America First" doctrine and touting his administration's achievements elicited an unusual response from the gathering of world leaders: laughter. "Didn't expect that reaction," said Trump, who hosts a Security Council session today. "But that's OK." Trump later said his remarks, which mimicked verbiage he's used repeatedly at rallies, were intended to provoke laughter.
Pressing on | Senate Republicans are pushing ahead with a plan to confirm Supreme Court nominee Brett Kavanaugh soon after tomorrow's hearing on an allegation that he sexually assaulted a fellow teenager in 1982. In an encouraging sign for the nominee's backers, Senator Susan Collins, a key swing vote, said she doesn't think Kavanaugh would overturn the Roe v. Wade decision that legalized abortion. Republicans will probably need all their members to fall in line for Kavanaugh to be confirmed.
Balkan vote | The Republic of Macedonia will hold a referendum this weekend to change its name and score a rare victory in a region that's at the heart of the struggle between Russia and the West over the world order. The vote is key to settling a 27-year-old row with Greece and opening the way for the former Yugoslav state to join NATO and the European Union.
Blocked entry | China refused to allow a U.S. warship's port call to Hong Kong, after it was reported that the country's top naval officer had also canceled a high-level meeting with his U.S. counterpart. Beijing's moves come after the U.S. sanctioned a Chinese military agency and its director, and are being used to convey dissatisfaction with a growing list of grievances against the Trump administration.
Venezuela intervention | A year after Trump said he was considering a "military option" for Venezuela, the idea is slowly gaining momentum in Washington. As millions of people flee the country's collapse, a growing number of senators, security advisers and former officials say Nicolas Maduro's rule has become a threat to the region and to the U.S., fueling discussion of a potentially risky U.S. military intervention. 
Trump has made clear he intends to discuss Iran's actions at today's UN Security Council session, which is officially focused on non-proliferation. He's also scheduled to hold bilateral meetings with the leaders of Israel, Japan and the U.K.
Embattled U.K. Prime Minister Theresa May is scheduled to speak at the Bloomberg Global Business Forum in New York about her plans to make the country pro-business in the aftermath of Brexit.
Over in Liverpool, in the north of England, her political rival Jeremy Corbyn will close the Labour Party conference with a speech calling for curbs to capitalism and egging on an early election.
And finally ... In the 1990s, Silvio Berlusconi used AC Milan as the springboard for an unlikely career that saw him dominate Italian politics for almost two decades. The billionaire media mogul has been laying low since his defeat in a March election. But this week he's due to complete the purchase of another soccer club, third-division Monza. At 81, he couldn't be plotting another comeback, could he?