Turkish Outrage Over Khashoggi Hints at Changing World Order
(Bloomberg) -- Three weeks after Washington Post columnist Jamal Khashoggi disappeared into the Saudi consulate in Istanbul, it wasn't the leader of the free world who articulated international outrage at mounting evidence of his murder, but the president of Turkey.
Any cover-up of the true authors of such a savage attack "would be an affront to humanity's conscience," Turkey's President Recep Tayyip Erdogan told his parliamentary party on Tuesday. He demanded justice for Khashoggi's family and a full investigation.
The contrast with U.S. President Donald Trump's more tepid response -- Trump said Erdogan had been "pretty rough on Saudi Arabia" -- underscores changes in the post-Cold War order, as Washington's global dominance declines alongside its promotion of so-called values-based foreign policies. It's also illustrated by the brazen nature of the killing, carried out by officials of one U.S. ally in the territory of another.
"That the U.S. has less of a role in defining outcomes all over the world than in the 1990s is certainly true," said Ambassador Charles Ries, a career U.S. state department official who served in Iraq and Europe. "You can see that in the rise of China and Russian aggression in Ukraine and its interference in European politics."
It's visible to an extent in the Middle East, too, where the political jostling over the Khashoggi affair raises the question of whether Saudi Arabia could become the next geopolitical chip in the Middle East to slip from America's grasp.
Take this Saturday, when Turkey, a North Atlantic Treaty Organization member, will host a summit to discuss the return of refugees to Syria, with Russia, Germany and France. The U.S. won't be there. Washington has been similarly absent from the main negotiations on ending Syria's 7-year-old war, which are led by Russia, Iran and Turkey.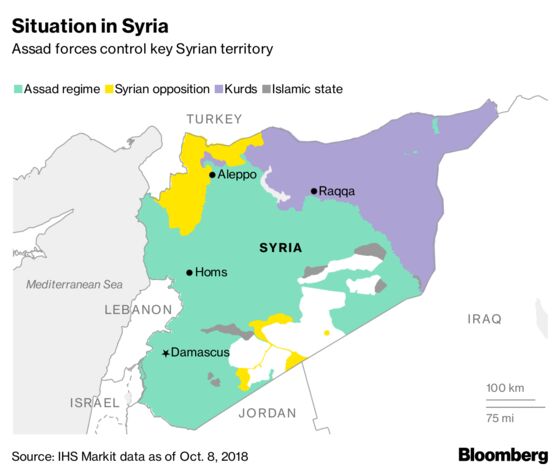 Egypt's President Abdel-Fattah El-Sisi, who took power in a 2013 military coup, has diluted his country's dependence on the U.S., buying Russian arms. Earlier this month, he signed a strategic partnership agreement with President Vladimir Putin in Moscow, and accepted $25 billion in loans to build nuclear power plants.
Iran, meanwhile, is finding some succor from America's European allies, as well as from China and Russia as it resists U.S. economic pressure. None has followed the U.S. in withdrawing from the 2015 nuclear deal that lifted economic sanctions on Iran in exchange for restrictions on its nuclear fuel program. In fact, the other signatories are looking at ways to get around the U.S. sanctions due to be reimposed in November.
But a Saudi move out of the U.S. orbit, if for example demands for the resignation of Crown Prince Mohammed bin Salman were to escalate, would be seismic. Erdogan on Tuesday turned up the heat on the Saudi leadership by insisting Khashoggi's death was planned, but failed to follow through on his threat to lay bare all the facts of his murder -- facts that ultimately will frame the responses of Western governments. Saudi authorities have now acknowledged the journalist died at the consulate, but they say the death was accidental.
Saudi Arabia, which according to the Stockholm International Peace Research Institute bought $3.4 billion of U.S. weaponry last year, has already made some moves to reach out to Russia, as a returning player to the Middle East. It has begun to work more closely with Moscow in shaping oil prices and until recently was in talks to purchase Russian S-400 missile-defense systems. Turkey is risking U.S. sanctions to buy the same weapon.
Some analysts see the Khashoggi murder as the result of the license the Saudi regime believed it had been given by the Trump administration's transactional approach to international relations.
Yet the Saudi regime is highly unlikely to suddenly shift away from the U.S., according to Neil Quilliam, a former U.K. diplomat now at Chatham House, the London-based foreign policy think tank. "A wholesale swing from under the U.S. security umbrella would take years, it would be a huge undertaking," Quilliam said -- not least because the wider Saudi royal family would see such a move as a threat to the family project, and resist.
Quilliam dismissed a recent article by Al Arabiya Television News Network director Turki Al-Dakhil, in which he claimed Saudi officials were considering as many as 30 ways to strike back at Western allies if they should sanction the kingdom over the Khashoggi case, something that U.S. legislators have threatened to do. Those counter-measures would include driving up the price of oil to $200 a barrel or more; switching to buy arms from Russia and China; and ending counter-terrorism intelligence sharing.