Erdogan Turns to Food Coops as Turkish Inflation Jumps Again
Turkish President Recep Tayyip Erdogan is expanding a network of stores run by a farm cooperative in an effort to keep food prices in check as inflation threatens his popularity ahead of general elections scheduled for 2023.
Turkey's consumer inflation accelerated for a fourth month in September, with prices rising an annual 19.58%, up from 19.25% in August. Annual gains in the cost of food, which makes up roughly a quarter of the consumer basket, were little changed at 28.79% amid a weak lira, supply bottlenecks and dry weather affecting harvests.
"Markets run by the Agricultural Credit Cooperatives are convenient in terms of prices and quality," Hurriyet newspaper cited Erdogan as saying in Istanbul on Sunday. "We have ordered that about 1,000 such markets be opened nationwide." Such a move will help "balance the market," he said.
The Agricultural Credit Cooperatives of Turkey currently operates about 500 grocery stores across the country, according to its website. Raising this number by 1,000 could make the organization a rival to major grocery chains, including listed BIM Birlesik Magazalar AS and privately-held A101 Yeni Magazacilik AS, which operated about 8,500 and 10,000 stores, respectively, as of the end of 2020.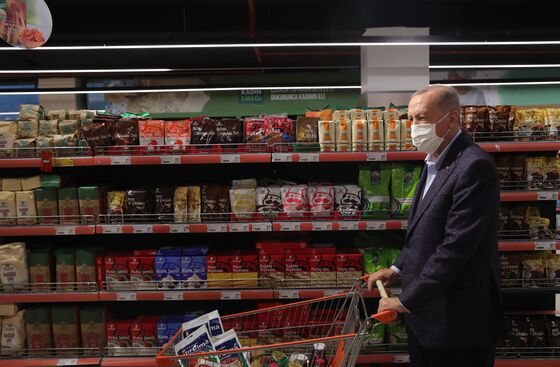 Erdogan's announcement came after the government threatened to fine businesses selling at elevated prices. Trade ministry officials were ordered last month to investigate allegations of excessive price increases in food products at wholesale markets in major Turkish cities, including Istanbul, Ankara and Izmir.
The government is also working on some legislative changes to curb food inflation. From October, fresh fruit and vegetables that may have been wasted on farms will be brought to an online market, and an early weather warning system will be put in place to spot potential supply shocks. There's also the prospect of tax incentives and more trade measures. Turkey removed import duties on grains and lentils on Sept. 8.
The main core index monitored by the central bank rose 22 basis points to 16.98% in September. Despite rising prices, the central bank governor, Sahap Kavcioglu, delivered a surprise cut to interest rates last month, shortly after he highlighted the role of core prices, which strip out volatile items such as food, in his forward guidance. He said transitory factors were affecting the broader inflation measure. 
Fuel and food costs are soaring worldwide, combining with congested ports and strained supply chains to elevate price pressures.
The central bank will hold its next rate-setting meeting on Oct. 21.