Turkey Orders Istanbul Vote Rerun After Erdogan Rejects Defeat
(Bloomberg) -- Turkey ordered a re-run of mayoral elections in Istanbul, overturning a rare defeat for President Recep Tayyip Erdogan and sending the lira plummeting as concerns grew over what critics say is the latest assault on the rule of law.
Erdogan's AK Party had demanded the revote, and the High Election Board late Monday accepted its allegations that the March 31 balloting was tainted by irregularities in the vote count and the appointment of ineligible people as ballot officials. Erdogan's party had lost the initial election in Turkey's largest city and commercial center by a narrow margin to Turkey's main opposition group, in perhaps his worst ballot-box setback during 16 years in power.
The new election will be held June 23, the board decided after voting 7-4 for another poll. Stocks erased this year's gains.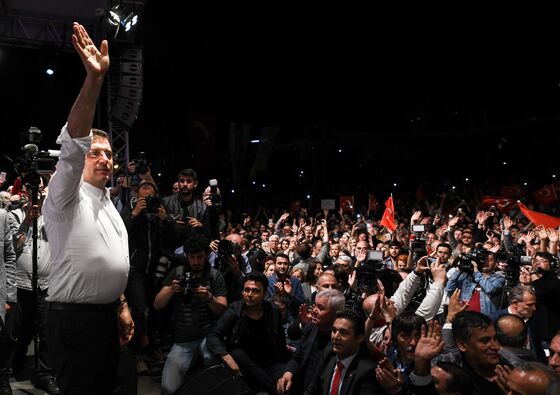 The board came under heavy public pressure from Erdogan, who's been criticized by Turkey's Western allies and domestic opponents for undermining democracy by riding roughshod over independent institutions while amassing unprecedented powers.
The decision is also troubling for investors in Turkey's $750 billion economy. They've already pulled money out in the past year as the country slumped into recession, and now they face an extended period of political turmoil.
"This is a dirty game about the refusal of those who are elected to power to not leave after an election," said Faik Oztrak, a deputy chairman of the main opposition party, CHP. "This is a coup against the last bastion of legitimacy of democracy, the ballot box."
European Union foreign-policy chief Federica Mogherini urged Turkey's government to invite international observers to monitor the revote. "Ensuring a free, fair and transparent election process is essential to any democracy and is at the heart of the European Union's relations with Turkey," Mogherini said.
The lira on Monday extended declines on Tuesday morning to almost 2 percent and was trading at 6.1567 per dollar as of 9:48 a.m. in Istanbul. The benchmark XU100 stock index was down 2 percent.
"We're in a political twilight zone, where the economy has fallen to the side," said Anthony Skinner, Middle East and North Africa director at risk analyst Verisk Maplecroft. The repeat vote "prolongs the electoral cycle, exacerbates negative economic conditions and kicks the can of reform -- to the extent that it exists -- further down the road."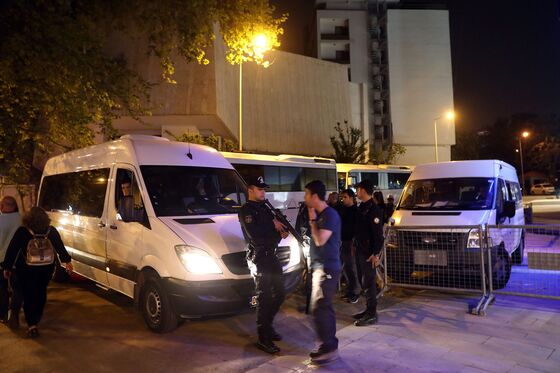 The lira has been among the world's worst performers over the past year. Its most dramatic crash came last August, triggered in part by a standoff with the U.S. over an American pastor who was held in Turkey on terrorism charges. The currency resumed its decline after the local elections as Erdogan challenged the result.
Further losses for the lira could drive inflation -- already running at nearly four times the official target -- even higher. It may also hurt the ability of Turkish companies to service debt. They borrowed heavily in dollars and euros, and have been struggling to make payments since last year's currency crash.
The election board canceled the mandate of the CHP's victorious candidate in March, Ekrem Imamoglu, who had assumed office as Istanbul mayor almost three weeks ago. An interim mayor will replace him.
Addressing thousands of supporters in Istanbul late Monday, Imamoglu denounced the election board's decision and said he would try in the election rerun to win over voters who had originally cast ballots for the AKP or other parties.
In the original tally, Imamoglu had defeated the AK Party's Binali Yildirim, a former prime minister and close Erdogan ally, by a margin of about 14,000 votes in a city with more than 10 million voters. Yildirim said he, too, will run again.
In the weeks after the election, Erdogan's approach fluctuated. At times he appeared to concede that Istanbul was lost. But he was also gradually turning up the heat on the election board.
His most explicit call for a new vote came this past weekend, when he said election laws had clearly been violated because private-sector employees were enlisted as ballot officials instead of civil servants.
Istanbul's chief prosecutor bolstered the president's argument, alleging that dozens of officials involved in administering the vote had links to U.S.-based Islamic preacher Fethullah Gulen. Turkey accuses Gulen of masterminding a failed coup attempt against Erdogan almost three years ago, and has jailed or fired tens of thousands of officials for alleged ties to the cleric, who was once an Erdogan ally.
The opposition dismissed the allegations, and accused Erdogan's government of looking for any excuse to manipulate the vote.
"The highly contentious decision to annul the election demonstrates that that there is not a single institution in Turkey that President Tayyip Erdogan does not dominate and control," said Wolfango Piccoli, co-president of Teneo Intelligence in London. "By forcing a rerun, Erdogan has also taken a major risk as elections have been key for the AKP to claim a sense of democratic legitimacy since it first came into power in 2002."