Turkish Lira Rallies as Central Bank Pledges Tight Policy
(Bloomberg) -- The Turkish lira gained the most in two weeks after the country's new central bank governor signaled he wouldn't stray from his predecessor's hawkish policies.
The currency rose as much as 1.7% against the dollar after Governor Sahap Kavcioglu discussed a tight monetary-policy stance in his first address to domestic investors on Thursday, according to a person with direct knowledge of his presentation.
Institutions and their continuity should be the basis of monetary policy in the period ahead, Kavcioglu said in the call. Inflation targeting remains intact and expectations of high inflation require tight policy, the governor said, according to the person, who spoke on condition of anonymity.
He also emphasized a commitment to the 5% inflation target, while adding that the bank is determined to reinstate the credibility of the Turkish lira.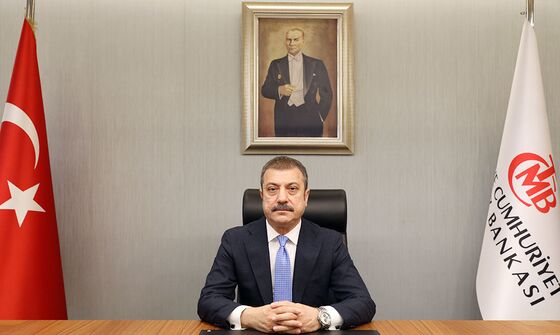 Foreign investors sold $1.9 billion of Turkish assets last week, the biggest outflow in 15 years, after President Recep Tayyip Erdogan unexpectedly removed former governor Naci Agbal from office just days after he delivered a bigger-than-expected rate increase.
The move sparked fears the central bank would revert to a loose policy setting that had undermined confidence in the nation's assets for years. It spurred an 11% decline in the lira last week, pushing it close to an all-time low. The yield on 10-year government bonds climbed a record 467 basis points.
In a written interview with Bloomberg after his appointment, Kavcioglu said markets shouldn't view a rate cut at the April 15 Monetary Policy Committee meeting as a given. Turkey's benchmark one-week repo rate was raised by 200 basis points to 19% on March 18, at Agbal's final rate-setting meeting as governor.
The lira was 1.2% stronger at 8.15 per dollar as of 5:35 p.m. in Istanbul. The yield on 10-year government bonds fell 61 basis points to 18.25%, while the Borsa Istanbul 100 Index rose 2.3%.