Turkey's Rate Hawk Spreads Wings With Inflation Talk Aiding Lira
(Bloomberg) -- Turkey's central bank Governor Naci Agbal said he will keep monetary policy tight until 2023, when inflation should be on target, laying down the clearest timetable since interest rates began to rise after his shock appointment in November.
The pledge eased fears that he could prematurely lower borrowing costs like his predecessor and lent a helping hand to the lira. The Turkish currency reversed its loss against the dollar after Agbal's remarks to stage the biggest gain in emerging markets on Thursday.
Agbal, unveiling his latest inflation outlook, left the year-end inflation forecast at 9.4% for 2021, despite pressures from international commodity prices and recent increases in labor costs. The governor sees price growth slowing to 7% by the end of 2022 and hitting the 5% official target the following year.
Bitesize Podcast: Lira Beats Peers on Central-Bank Policy Vow
"It was a great display of flying hawks," Rabobank's emerging market strategist Piotr Matys said. "The market appreciates that, as reflected in the Turkish lira outperforming its EM peers on a day when sentiment across the markets is rather weak."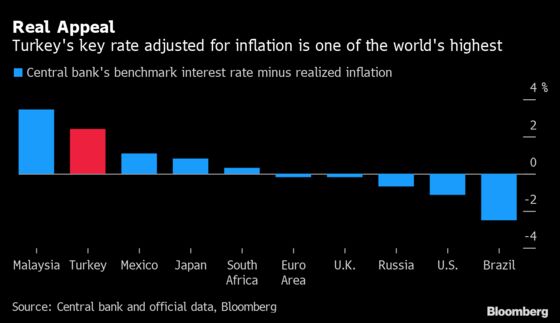 The central bank last week left its benchmark rate at 17% at the first monetary policy meeting of the year, pledging to keep it elevated for an "extended" period and to deliver additional tightening if needed. The pause followed a cumulative increase of 675 basis points since Agbal took over, bringing inflation-adjusted borrowing costs well above yields offered by Turkey's emerging-market counterparts.
"It's too early to speak of interest-rate cuts," Agbal said during a video conference. "The buffer between actual inflation and the policy interest rate will be created with the aim of maintaining a strong disinflationary balance until the 5% target is hit, and that balance will be kept."
The central bank's hawkish stance indicates the lira could appreciate beyond 7 per dollar in the coming months, according to Matys, breaching a level it hasn't seen since last August. It was trading 0.5% stronger at 7.3625 as of 1:52 p.m. in Istanbul.
Below are other highlights from Agbal's comments and revisions to the inflation outlook:
This year's food inflation estimate raised to 11.5% from 10.5%
The central bank's average estimate for oil prices in 2021 is $54.4 per barrel
The governor said the central bank may deliver front-loaded tightening if inflationary risks warrant such action
Agbal vowed to implement inflation targeting decisively and cited upside risks to processed food prices
The Monetary Policy Committee is next scheduled to discuss borrowing costs on Feb. 18.