Turkey, U.S. Agree to Brief Cease-Fire to Allow Kurdish Retreat
(Bloomberg) -- Turkey agreed to a temporary pause of military operations in Syria that could be extended if Kurdish fighters formerly allied with America leave the border region, U.S. Vice President Mike Pence announced after a hastily arranged visit to Ankara.
The "immediate" cease-fire will last 120 hours, Pence said during a press conference Thursday in the Turkish capital following about five hours of talks with Turkish President Recep Tayyip Erdogan. Pence said the Syria-based YPG, which consists mostly of ethnic Kurd fighters previously aligned with the U.S., has provided assurances that they'll make a "safe and orderly withdrawal."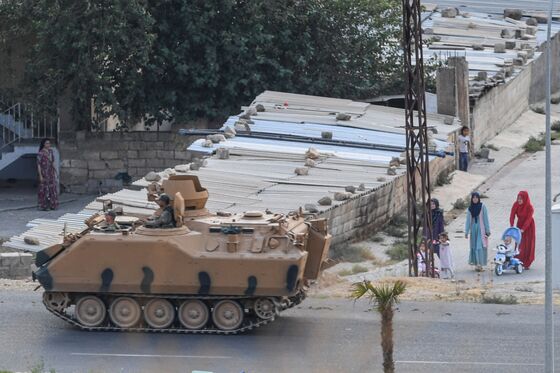 "We think the agreement today first ends the violence, which is what President Trump sent us here to do," Pence said. He declined to describe any concessions made by Turkey.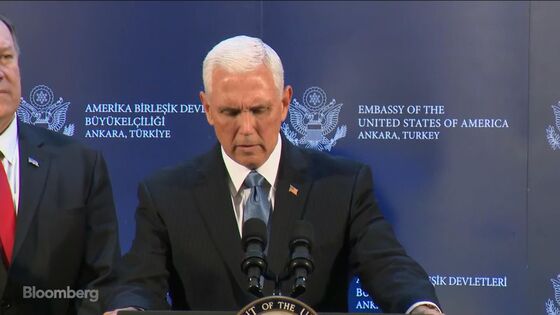 Turkish Foreign Minister Mevlut Cavusoglu said the one-page accord wasn't a cease-fire, but a pause, and boasted that Turkey had gotten what it wanted from the U.S. Top of their demands was that Turkish armed forces will be oversee a 20-mile "safe zone" inside Syria.
But a senior administration official said that despite the dispute about the wording, the agreement was a cease-fire. The official, who was granted anonymity to discuss the matter, added that the administration had been in contact with the YPG throughout the negotiations and that the group had been told to halt firing its artillery into Turkey.
Turkish forces quickly invaded the northeast of the country and attacked Kurdish fighters previously aligned with the U.S. after President Donald Trump told Erdogan in an Oct. 6 phone call that he wouldn't stand in the way. While the U.S. initially withdrew a handful of troops from two border posts, Defense Secretary Mark Esper later said all 1,000 American forces would pull out of the region.
The accord reached Thursday bears some resemblance to what Erdogan proposed a day earlier to end the impasse. In a speech to ruling party lawmakers in Ankara, Erdogan said Turkey would end its operation only after Kurdish militants withdraw from the secure zone Ankara wants to create in Syria. Syria and Russia have long opposed any permanent role for Turkey in northern Syria.
As part of the agreement, Pence said no additional U.S. sanctions would be imposed on Turkey. He added that the U.S. will withdraw existing sanctions if a permanent cease-fire takes effect after the 120-hour period. But Pence said a failure to reach an accord on Thursday would have resulted in new penalties.
The Turkish lira jumped to a one-month high on the news.
It wasn't immediately clear whether the cease-fire is absolute. Under the terms of the agreement, Turkey and the U.S. agreed that "counter-terrorism operations must target only terrorists and their hideouts, shelters, emplacements, weapons, vehicles and equipment." Turkey considers the Kurdish-led forces in Syria to be terrorists.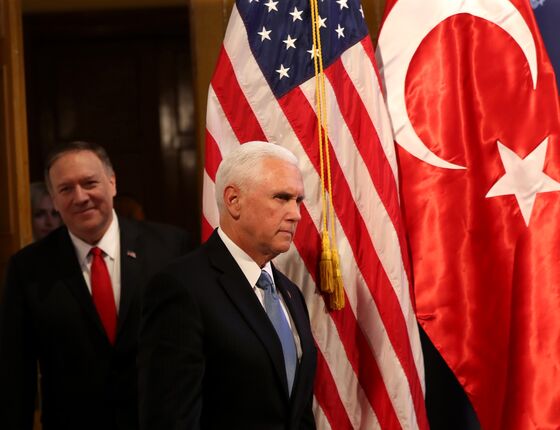 Pence emphasized that Turkey agreed not to engage militarily in Kobani, a strategic border town. Syrian forces on Wednesday entered Kobani as part of a deal with Kurdish fighters to fend off the Turkish offensive. But Cavusoglu refrained from calling the arrangement for Kobani an agreement.
The one-day visit by Pence and Secretary of State Michael Pompeo was cobbled together after rising bipartisan criticism of Trump's Oct. 6 decision to start pulling back U.S. forces in northern Syria, opening the way for Erdogan's forces to attack Kurdish fighters who had helped the U.S. defeat Islamic State's "caliphate."
Trump, minutes before the press conference, said the deal would mean "millions of lives will be saved." Trump has continued to defend his decision and rejected widespread claims that his move gave Erdogan a green light to send his forces over the border. He called it "an amazing outcome" upon landing in Texas on Thursday, adding "we've gotten everything we could have ever dreamed of."
The president said that Erdogan is still likely to visit the White House next month as scheduled.
The announcement in Ankara came just as Republican Senator Lindsey Graham proposed legislation prohibiting anyone in the U.S. from buying Turkey's sovereign debt, as lawmakers aim to escalate pressure on Erdogan's government. Graham, who has repeatedly blasted Trump's troop withdrawal, called the agreement "encouraging" but added that he didn't know the details.
"We're ready to come and hit Turkey hard if they don't get out of Syria and reset the table," Graham told reporters in Washington. "I appreciate what Pompeo and Pence have done. I don't know the details. I don't trust Erdogan."
But Republican Senator Marco Rubio of Florida, another foreign policy hawk, said "From what I understand it's not a cease-fire." He said the deal was a message to the Kurds that "You have one hundred and x number of hours to get out of here before we kill you."
Erdogan likely emerges with a political boost from the crisis and deal with the U.S. Turks are overwhelmingly supportive of a heavy-handed approach against Kurdish separatists that Turkey has been fighting against since 1984. All main opposition parties except the pro-Kurdish HDP expressed support for Turkish troops in Syria and Erdogan in his dealings with the international community.