Erdogan Accuses Retired Admirals of Coup Plot Against Him
(Bloomberg) -- Turkey's President Recep Tayyip Erdogan on Monday said that a joint statement by roughly 100 retired admirals appeared to incite a coup against his government.
"It is out of the question to accept 104 retired admirals to come together and issue a midnight statement in a country with a past full of coups and ultimatums," Erdogan said Monday. "This can't be called free speech. It is regarded as an attack on democracy, the rule of law and will of the nation."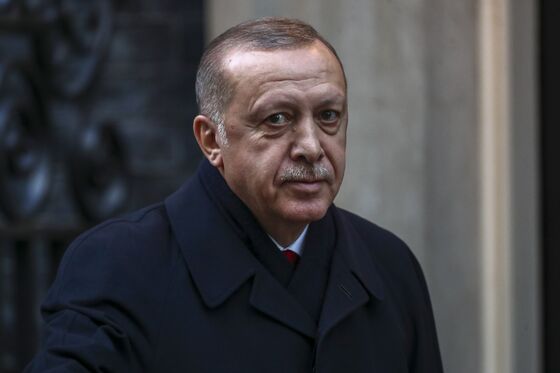 Erdogan spoke hours after authorities detained some of the admirals and accused them of plotting to overthrow the Islamist-rooted government. Fourteen of them were singled out as the ringleaders behind a statement issued over the weekend that criticized the government's stance on a key international maritime treaty and called on the military to protect its secular values.
"We will show those who dare to threaten the nation and the administration they chose," Erdogan said. "We are taking every kind of measures" following the joint-statement.
The president has significantly curtailed powers of the military, especially after a failed 2016 coup attempt by elements of the military accused of ties to a U.S.-based cleric. His administration and some opposition leaders portrayed the statement as an attempt to restore military tutelage in the country.
Turkey's military has overthrown the government three times since 1960, pressured the country's first Islamic-rooted government out of power in 1997 and threatened to interfere with a disputed presidential election in 2007.
Erdogan, meanwhile, dismissed concerns expressed by the admirals over the impact of a giant canal project on the future of a 1936 treaty, the so-called Montreux Convention, governing the Bosphorus Strait and meant to ensure stability in the Black Sea region.
The joint statement renewed public discussion about Canal Istanbul, Erdogan's multibillion project to build a new strait bisecting Istanbul as an alternative route including for warships.
"Canal Istanbul project will alleviate the sea traffic through the Bosporus Strait while giving Turkey an alternative route under its sovereignty," Erdogan said. "We currently have neither an aim nor an intention to exit the Montreux convention. But if this need arises in the future, we do not hesitate to review every convention to make our country better."