Tunisia's President to Rule by Decree Over a Country in Crisis
Tunisia's president assumed the right to rule by decree and signaled plans to amend the constitution, strengthening his grip over the only democracy to emerge from the Arab Spring uprisings a decade ago. 
President Kais Saied can now issue legislative and executive edicts without resorting to government or parliament, including pacts with international lenders, appointments and dismissals to senior positions and approval of the state's budget, according to a presidential order published in the official gazette on Wednesday. 
The order did not set a time limit on what it termed "exceptional measures," saying they would apply until further notice. Saied will also assign a panel of experts to draft changes to parts of the 2014 constitution that transformed Tunisia into a full-fledged democracy and was agreed after more than two years of painstaking public debate, his office said a few hours before the decree was published.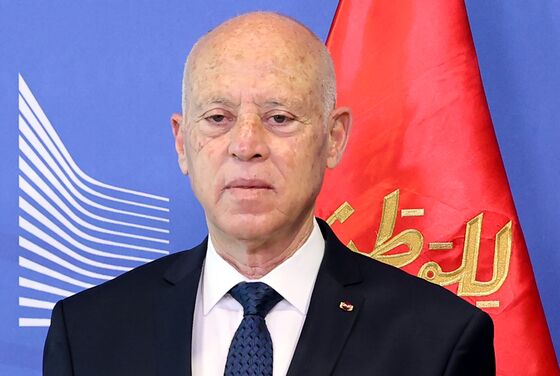 Elected in 2019 on an anti-establishment platform, the unassuming professor-turned-president suspended parliament and sacked the prime minister in late July, raising the prospect that the birthplace of the Arab Spring was sliding back toward the autocratic rule that stifled freedom for decades before a wave of protests reshaped the region in 2011.
Saied's measures were welcomed at first by many Tunisians fed up with the political paralysis and economic malaise that's marred their democratic transition, but unease has since begun to grow both at home and abroad. 
Mouna Krayyem, a Tunisian constitutional law professor said Saied's promises of reform amounted to "wordplay."
"He has been steadily moving towards dictatorship," she told Bloomberg in a telephone interview. "I fear for the state, the republic, and for freedom of expression. This is a coup against the constitution. 
Wednesday's announcements were met with immediate opposition from the powerful UGTT trade union and prominent secular parties initially relieved Saied's measures had sidelined their most formidable rival -- the Islamist Ennahda party, which had dominated the elected parliament for the past decade.
Ennahda said Saied was taking the North African country on a "clear path toward absolute authoritarian rule." 
Secular critics focused on the economic risk of entering a prolonged period of political and constitutional uncertainty. 
Tunisia is struggling to turn around the economy, with the political stasis is delaying talks over a possible new International Monetary Fund program that could unlock badly needed financing and bolster investor confidence.
The financial bind is such that Tunisia will not be able to close its budget for this year nor plan for a new budget bill for 2022 without an agreement with the IMF, the state news agency TAP quoted economics professor Fatma Marrakchi Charfi as saying.
A UGTT official warned that Tunisia was heading "toward the abyss" and that the state may no longer be able to afford the wages of a massive public sector. 
Saied has maintained he's taking steps to save the country and root out corruption, dismissing criticisms he staged a coup.