Tunisian Professor Poised to Win Presidential Vote in Landslide
(Bloomberg) -- Law professor Kais Saied is poised for a landslide victory in Tunisia's presidential election, a result that would give the political outsider a strong mandate to pursue the constitutional changes he says are needed to complete the nation's 2011 revolution.
An exit poll by Sigma Conseil pointed to Saied winning 76.9% of ballots in Sunday's run-off vote and his competitor, media mogul Nabil Karoui, 23.1%. The election commission is due to announce the official results later Monday, although interim President Mohamed Ennaceur and Prime Minister Youssef Chahed have already congratulated Saied.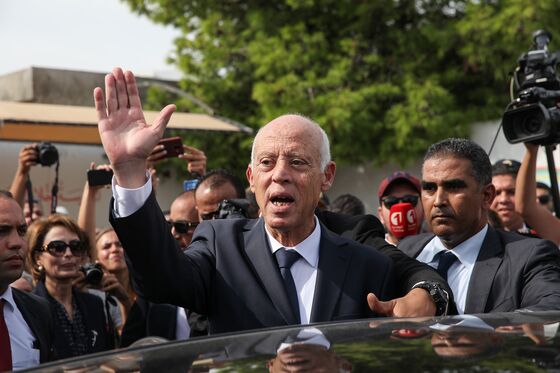 "Tunisians have opened a new chapter in their history," Saied, 61, told supporters at his headquarters in downtown Tunis late on Sunday as he hailed the poll's findings. "I will be a president for all Tunisians and apply the law to everyone, including myself."
Hundreds of Tunisians took to the capital's main boulevard after he spoke, many waving the national flag and chanting songs from the days of the revolution that ousted long-time leader Zine El Abidine Ben Ali. Celebratory fireworks illuminated the night sky.
The showdown between Karoui and Saied -- both outsiders who beat more than 20 contenders including premier Chahed to reach the run-off -- was a stark sign of the widespread discontent with mainstream politics in Tunisia, eight years after its Arab Spring revolt. Sigma correctly called the main results of the Sept. 15 first round as well as last week's legislative elections.
Constitutional law expert Saied, whose composed, unemotional speaking style has earned him the nickname 'Robot Man,' is promising a wholesale restructuring of Tunisian politics, expanding parliament to deepen the sense of representation at the grassroots.
His shock win in the first round came after a low-profile campaign backed by many of Tunisia's youth, angered by the failure of post-uprising governments to develop the economy and provide crucial job opportunities. Unemployment in the North African nation is above 15%.
Critics, though, have expressed misgivings over some of Saied's socially conservative views, including on inheritance rights for women. His endorsement by the moderate Islamist Ennahda party in the runoff has also prompted concern among Tunisia's more staunch secularists.
The electoral commission said more than 57% of the nation's roughly 7.47 million registered voters cast a vote, up from about 49% in the first round.
Karoui, a self-styled champion of the poor famous for his charity programs, took second place in September's vote despite being in jail on corruption charges he denies. The 56-year-old was released Wednesday after about six weeks behind bars and ran on a liberal and business-friendly platform.
Karoui said he'd wait until the official results to congratulate Saied, describing the poll's outcome as expected because he'd been unable to properly campaign, local broadcaster Mosaique FM reported. He said he'd support any party in government seeking to combat poverty.