Robot Man, TV Mogul Prevail as Tunisians Rage Against the System
(Bloomberg) -- A low-profile law professor and a jailed media tycoon secured the top spots in Tunisia's landmark presidential vote, routing veteran politicians in a rejection of the status quo in the birthplace of the Arab Spring.
Kais Saied, a constitutional law professor, secured 18.4% of the vote while Nabil Karoui, the owner of a TV channel who's detained on corruption charges he denies, won 15.6%, the election commission said Tuesday. They'll compete in a run-off vote in October, since neither achieved more than 50% of ballots in a contest between two-dozen candidates.
The outcome was a devastating blow to candidates who'd counted on their experience over the past eight years to lead them to the presidency. Among them were Prime Minister Youssef Chahed, who came fifth, the deputy head of the moderate Islamist Ennahda party, Abdelfattah Mourou, who was third, and fourth-placed Abdelkarim Zbidi, the defense minister.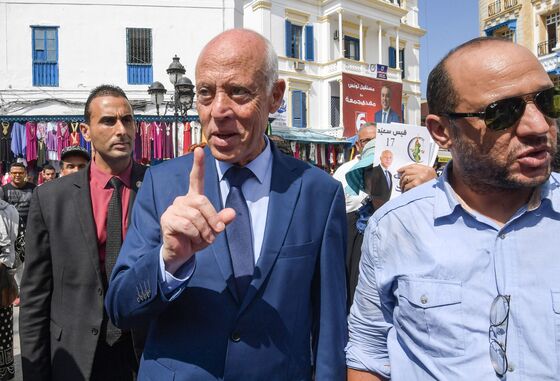 Saied, who's been nicknamed "Robot Man" because of his rapid-fire, fact-filled speaking style, hailed the outcome and said it marked the "stage that we open, with the blessing of God."
"The Tunisian people today know what they want, and that's why the slogan in 2010 was, and remains so today, 'The people want..,'" he said in televised comments after the announcement, referring to the calls that were the opening salvo in the protests that overthrew longtime leader Zine El Abidine Ben Ali.
The presidential race, convened weeks after President Beji Caid Essebsi died, was a key test of Tunisia's democracy -- the most tangible accomplishment in the North African country after Ben Ali's 2011 ouster.
While the country has emerged from its uprising with a viable democracy, two-thirds of the population say the government has failed to improve their lives. It's been hobbled by political infighting and sporadic militant attacks that have sapped the economy.
"There is anger, hatred and resentment of the people against the political elites, whether ruling or opposition," said Sadok Hammami, a Tunisian political analyst and media lecturer. Many voters "said that these elites betrayed the people and didn't represent them."
Among a diverse range of contenders, only four -- Karoui, Chahed, Mourou and Zbidi -- had widely been considered front-runners.
Karoui, 56, had become famous as a self-proclaimed "champion of the poor" for his TV shows in which he distributed charity to Tunisia's most needy. He was arrested last month on allegations of money-laundering that date back to 2016, and ran while still in prison. The election commission said parliament would decide the next step should Karoui win the second round.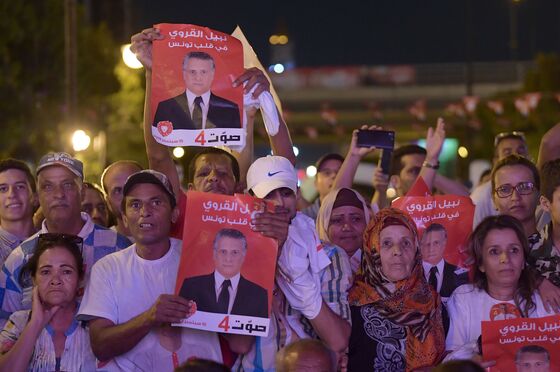 Saied's success, a surprise to many, became apparent late Sunday when he appeared on local media hailing a shock exit poll that showed him on course for victory. Another survey earlier in the year, before the established candidates decided to run, suggested the 61-year-old might do well, but his independent candidacy subsequently received little attention.
Some of Tunisia's youth say they've found inspiration in this austere figure, who campaigned on a platform of decentralizing responsibilities to local authorities to empower people.
"Young people lost all confidence in politicians, but today the youth have regained their confidence via Kais Saied," said Rayan Ben Souf, a 20-year-old student shopping in Tunis' central market on Monday. "He is against the system."
About 49% of Tunisia's roughly 7.47 million registered voters cast ballots, the election commission said, down from around 60% in 2014's presidential contest.