Tsipras Tests Greek Budget Credibility With Pitch to Voters
(Bloomberg) -- Greek politicians are gambling their post-bailout credibility with lenders and investors on voter-pleasing promises as they look to elections that may be just months away.
Prime Minister Alexis Tsipras has pitched rescinding unpopular pension cuts slated for January, while both he and opposition leader Kyriakos Mitsotakis are promising lower taxes. The government unveiled draft numbers on Monday, and the plan is the first big test of how much fiscal sovereignty Greece has regained since exiting its aid program in August.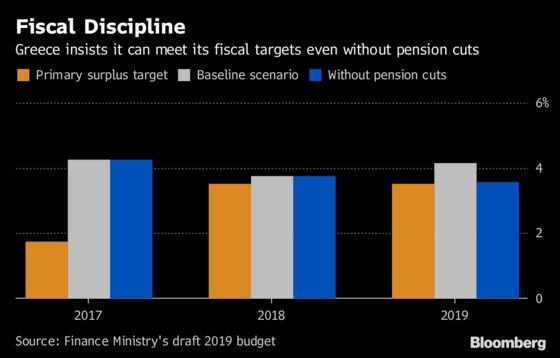 Tsipras says he can hit fiscal targets set down by the euro area and International Monetary Fund without the planned pension cuts. They were agreed after months of back and forth negotiations, and some creditors consider them a vital structural reform. That means the government risks creating the impression of backsliding now that Greece is out of the bailout.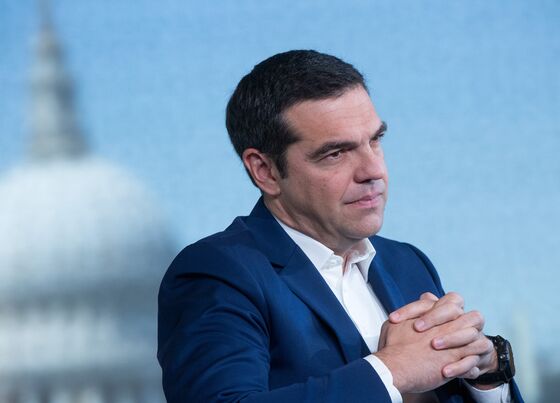 The prime minister wants to provide relief to workers after the debt crisis that sent living standards plunging and unemployment soaring. Given his Syriza party is trailing the opposition New Democracy in polls, he's also counting on a less austere budget to bring him votes. Greek media this week speculated that elections could be held as soon as February.
"Austerity over the years was too strict so we now need more expansionary fiscal policies," said Danae Kyriakopoulou, chief economist and head of research at OMFIF. "The worry is whether that's directed in political ways as opposed to really directing the extra fiscal space the government may have in areas that are really going to support growth."
With the budget unveiled Monday showing the debt ratio will rise to 183 percent of gross domestic product this year, before dropping to 170 percent in 2019, any promises are constrained by a commitment to run a budget surplus before debt service of 3.5 percent of GDP until 2022.
The budget laid out a fiscal trajectory under two scenarios, including a baseline scenario with pension cuts going ahead as planned where the 2019 primary surplus rises to 4.1 percent from 3.7 percent this year. Without the cuts, the primary surplus drops to 3.6 percent.
Still, the plan raises the prospect of a collision with creditors, or of investors taking fright at fiscal giveaways. That's the situation in Rome now, where a higher-than-anticipated deficit target sent Italian bonds lower.
Greek 10-year yields are at 4.2 percent, around the average level seen so far this year.
With Italy and Brexit on their agenda, European ministers may avoid another fight and sign off delaying the pension cuts, according to George Pagoulatos, a professor at the Athens University of Economics and Business.
"No side wants to shake the image of a country that's successfully exited the bailout, and reopen the Greek discussion when there are bigger fish to fry," Pagoulatos said. But the other consideration is markets, "which are significantly more demanding and less forgiving," he said.
Greece still lacks sustained market access and hasn't been able to sell bonds since a foray in February. The bailout exit arrangement left it with a 24 billion-euro ($28 billion) cash buffer which means it can withstand a period of investor skepticism.
Mitsotakis argues that his business-friendly structural reforms and privatization would prevent that, lowering yields and attracting investors. And while both he and Tsipras have unveiled tax-cutting economic platforms, Mitsotakis's proposals are more aggressive, though that could make them difficult to finance.
"In the next phase of Greece's economic story the markets will play much more of an important role," said OMFIF's Kyriakopoulou. "Having a government that is seen as more pro-market is going to create more of an attractive proposition."