Tsipras Calls Emergency Cabinet Meeting Amid Wildfire Fallout
(Bloomberg) -- Prime Minister Alexis Tsipras called an emergency meeting of his cabinet amid mounting criticism of how the government handled wildfires that killed dozens of people this week.
The meeting is to coordinate the next steps in dealing with the crisis, following the announcement of a package of relief measures for the fires' victims on Wednesday. In a press conference late Thursday, the government blamed arson, strong winds and illegal structures for the tragedy.
"I fully assume the political responsibility for the tragedy," Tsipras said in televised comments ahead of the meeting. Evidence leads to the conclusion that arson was behind the fires while the government will move quickly and decisively to draw up a national plan that will address decades of building violations, he said.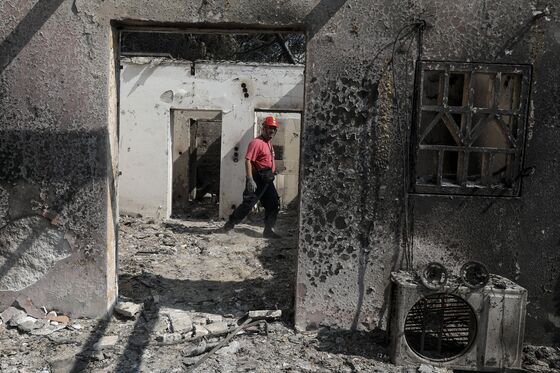 The wildfires broke out in two popular holiday resorts near Athens on Monday. The second one, at the coastal resort of Mati in eastern Attica, killed at least 83 people, with many still missing. They also damaged about 2,500 homes.
The country's fire service is investigating evidence of arson from satellites and ground inspections, Alternate Citizen Protection Minister Nikos Toskas, who is coordinating the response, said in Thursday's press conference. With pressure to take responsibility rising and public resentment becoming more intense, Toskas said he offered to resign but Tsipras didn't accept.
Still, the government in Athens took heat on Friday for what many consider its tone deaf response to criticism of its handling of the crisis in Thursday's press conference.
"We need to take under consideration the extreme weather conditions," Toskas said at the press conference. "I tried for reasons of consciousness to find out what the mistakes were and where the responsibility lies and I can tell you that I can't find big operational mistakes."
Earlier on Thursday Defense Minister Panos Kammenos went as far as blaming the inhabitants themselves in a BBC interview at the site of the disaster, saying they had built houses without permits.
"Not one of those involved has been removed from their posts," Maria Spyraki, spokeswoman for the main opposition New Democracy party, said on Friday. "Instead, they say they are proud of doing their jobs well, while we're still counting the dead."
This year's fires have been worse than in 2007, when record-high temperatures led to a series of blazes across the country killing at least 73 people.