Trump Whipsaws Markets Again With Habit of Overstating Success
(Bloomberg) -- President Donald Trump turned to a familiar playbook after his high-stakes dinner with Chinese President Xi Jinping on Saturday: boast of a big victory first, and let a more nuanced reality sink in later.
Trump followed the same script after trade talks with the European Union and Canada and his nuclear summit with North Korea's Kim Jong Un. His optimistic comments can send markets soaring, before investors realize the president's claims of success may have been exaggerated.
The pattern played out again with auto stocks this week. Shares of General Motors Co., Ford Motor Co., Daimler AG and BMW AG surged Monday after Trump tweeted: "China has agreed to reduce and remove tariffs on cars coming into China from the U.S." But by late Tuesday morning, Trump not only acknowledged there was no deal but questioned whether one was possible. He declared himself "Tariff Man."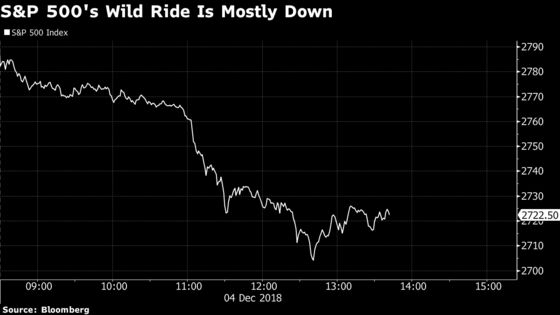 Shares reversed course Tuesday as investors grew skeptical that the U.S. and China made any meaningful breakthrough on trade. The Dow Jones Industrial Average plunged almost 800 points and the S&P 500 lost 3.2 percent -- the biggest rout in almost two months.
It's not the first time Trump has whipsawed markets, especially carmakers. Trump claimed victory after a July meeting with the European Union's Jean-Claude Juncker, as he agreed to hold off on imposing tariffs on auto imports from Europe as long as progress was made in negotiations over a limited trade deal. He also claimed that the EU agreed "to purchase almost immediately large amounts of American soybeans" as exports of the commodity were hit by the trade war with China.
The EU Rose Garden truce prompted a bounce in the shares of European carmakers that was short-lived. And the EU's soybean commitment turned out to be no more than modest bargain-hunting. The small increase in purchases of American beans that followed was attributable to a collapse in prices caused by the trade war with China, not a new deal with the U.S.
The larger trade negotiations with the EU are expected to begin in earnest only next year. Trump has resumed his threats to impose tariffs on European cars, calling German automakers in for a summit at the White House on Tuesday.
Trump is in a similar position with Japan. He portrayed as a major accomplishment an agreement with Japanese Prime Minister Shinzo Abe to start trade talks early next year. But one key condition of a deal is that Tokyo won't give U.S. farmers any more access to the Japanese market than it negotiated with the Obama administration as part of TPP talks that dragged on for years.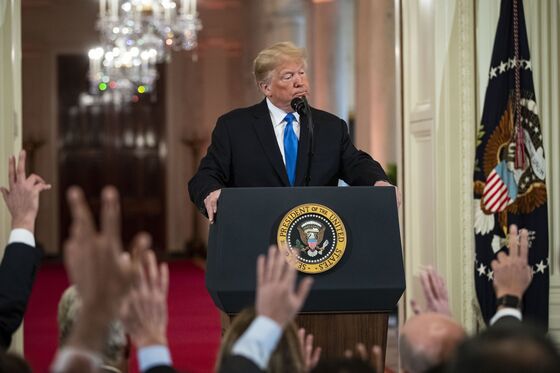 After November's midterm elections Trump was back to issuing threats. He greeted a Japanese reporter with: "Say hello to Shinzo. I'm sure he's happy about tariffs on his cars."
Even when he's finalized a deal, Trump is inclined to embellish. After he signed a replacement deal for Nafta, Trump declared it "a model agreement that changes the trade landscape forever."
While it included some significant changes, particularly to auto content rules, the final deal amounted to a rebranding exercise - it is now called the U.S. Mexico Canada Agreement. It also borrowed heavily from another deal that Trump scorned, the 12-country Trans-Pacific Partnership from which he withdrew in one of his first acts in office.
Republican and Democratic lawmakers scoffed at Trump's portrayal of the Nafta replacement.
"You know 95 percent of what we will be voting on is the same as Nafta," Iowa Senator Chuck Grassley told reporters in October. Nancy Pelosi, the top Democrat in the House, mocked "the trade agreement formerly known as Prince, no, I mean, formerly known as Nafta".
The president's hyping of his trade deals echoes his nuclear diplomacy with North Korea's Kim. At a historic June summit in Singapore, Trump repeatedly described the document he and Kim signed as "comprehensive," and he hailed the North Korean leader's commitment to remove nuclear weapons from the Korean peninsula.
But few meaningful details, such as a timeline, were ever provided. And since then, talks have appeared to stall. The most recent sign of trouble was the test of a new "advanced tactical" weapon by Pyongyang last month -- the first such demonstration in almost a year and a pointed signal to the U.S. and South Korea.
Yet Trump is publicly unfazed. He has continued to claim that Pyongyang is no longer a threat and said on his way back from his meeting with Xi in Buenos Aires that he is planning a summit with Kim as soon as January.