Trump Weighs Putting Off Government Shutdown After Bush's Death
(Bloomberg) -- President Donald Trump and lawmakers are discussing pushing back a U.S. government funding deadline to avert a partial shutdown as Washington prepares to honor former President George H.W. Bush, who died late Friday.
Funding is set to expire after Dec. 7 for some federal agencies including the Department of Homeland Security and Internal Revenue Service, which would trigger a partial shutdown unless lawmakers can navigate an impasse with Trump over spending on border security.
Trump said he may support continuing current funding levels by two weeks for agencies that don't have full-year budgets. Lawmakers are discussing extending funding by one to two weeks and that no decisions have been made, according to two congressional aides.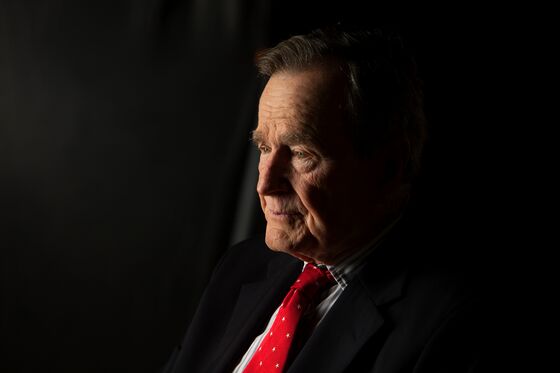 If lawmakers "come, which they have, to talk about an extension because of President Bush's passing, I would absolutely consider it and probably give it," Trump told reporters aboard Air Force One en route to Washington from the Group of 20 Summit in Buenos Aires.
Trump has so far demanded funding for increased security at the U.S.-Mexico border, which would include a wall that he vowed to construct during his presidential campaign. He has said he is willing to endure a partial government shutdown if Congress fails to provide for border security in a spending bill.
Congress has already passed full-year funding for most other federal agencies, meaning they would remain open. House Republicans have passed a spending bill that includes $5 billion for the president's proposed border wall, while Senate Democrats have proposed $1.6 billion for the project.
Bush died late Friday at the age of 94. His remains will be transported on Monday from Ellington Field in Houston to Joint Base Andrews in Maryland aboard the government plane reserved for presidents as Air Force One. There'll be a bicameral arrival ceremony at the U.S. Capitol at 5 p.m. on Monday, and he'll lie in state in the Capitol Rotunda, with the public invited to pay respects from Monday evening until Wednesday morning.
Trump and his wife Melania will attend the funeral Wednesday at the Washington National Cathedral. The White House has designated Dec. 5 as a national day of mourning, when federal government offices along with financial markets will be closed in Bush's honor.