White House Says No Consensus Existed on Russian Bounty Reports
(Bloomberg) -- President Donald Trump wasn't briefed on reports that the Russian government paid bounties for American and allied troops to be killed in Afghanistan because there was no consensus among intelligence officials on the veracity of the claims, said White House press secretary Kayleigh McEnany.
McEnany told reporters at the White House on Monday that such intelligence wouldn't be escalated to the White House without broad agreement among intelligence officials. She didn't say whether reports of the bounties or the debate in the intelligence community were included in written daily briefs provided to Trump.
"Intelligence is verified before it reaches the president of the United States and in this case it was not verified," she said, citing "dissenting opinions within the intelligence community."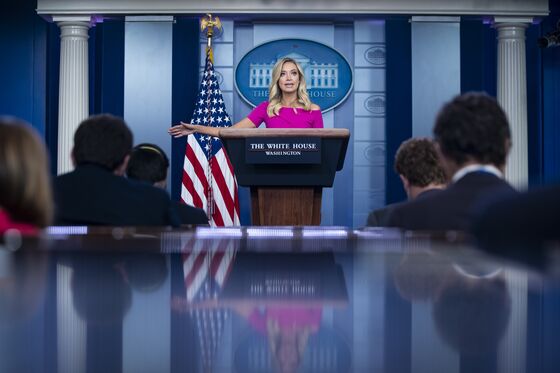 That hasn't always been the case. The intelligence community was widely faulted in the aftermath of the second U.S.-Iraq war for using hand-picked data that ended up being false. That prompted intelligence officials to begin assigning degrees of confidence to information they provided top officials, including the president.
In a famous example, in January 2017, the intelligence agencies said they assessed that President Vladimir Putin and the Russian government "aspired to help" Trump's "election chances when possible by discrediting" Democrat Hillary Clinton "and publicly contrasting her unfavorably to him. All three agencies agree with this judgment. CIA and FBI have high confidence in this judgment; NSA has moderate confidence."
Many of Trump's former aides and colleagues -- including former National Security Advisor John Bolton and former Secretary of State Rex Tillerson -- have said the president can frequently have a short attention span and isn't inclined to read lengthy material provided to him on any subject, particularly if it disagrees with his views or instincts.
Regardless, the alleged Russian bounties have swiftly emerged as another political crisis for a president already struggling to defend his response to the coronavirus outbreak that's resurgent across the South, as well as continuing nationwide protests against police brutality and racism.
A group of senior lawmakers was briefed Monday at the White House on the alleged intelligence reports and House Speaker Nancy Pelosi has demanded a briefing for the full House of Representatives.
"The questions that arise are: Was the president briefed, and if not, why not, and why was Congress not briefed," Pelosi wrote on Monday to Director of National Intelligence John Ratcliffe and Central Intelligence Agency Director Gina Haspel. "Congress needs to know what the intelligence community knows about this significant threat to American troops and our allies and what options are available to hold Russia accountable."
Reports on the bounties and whether Trump knew about them have drawn fresh attention to the president's efforts to build warmer relations with the Kremlin.
Russian officials have dismissed the accusations, first reported by the New York Times, as "fake news" emerging amid the heat of the 2020 presidential race.
Trump never brought up the issue in his conversations with Putin, Kremlin spokesman Dmitry Peskov said Monday. He dismissed the allegations as "lies," highlighting Trump's public rejection of them.
McEnany wouldn't say whether the president still wants to invite Putin to the U.S. in September to be a part of a Group of Seven meeting Trump has said he plans to host.